How To Backpack With Dragons
Legend has it ancient map makers feared white space. Every gap revealed a cartographer's lapse in geographic knowledge. And like London Underground passengers, mind the gap they did indeed. Artwork became a form of cartographer's spackle, filling in those unsightly and embarrassing holes.
Not exactly sure what's out there? Quick doodle a giant elephant, a sea serpent, or better yet a really cool dragon. No gap means: relax I've got this map covered.  A scary monster means: don't even think of going there to prove me wrong.
Cartographers with sketchy sketching skills simply wrote HC SVNT DRACONES, which in Latin means Here Be Dragons. In English it means your fingers are probably not lined up on the keyboard. Here be Dragons went on to become the standard way cartographers indicate "terra incognita" or "land unknown."
This particular legend has a characteristic common with many legends.  Namely, it is untrue. Oh yes, there were real and mythical creatures drawn on maps, but apparently only one marked HC SVNT DRACONES.  Written, or perhaps mistyped, HC SVNT DRACONES appears on the 1510 Hunt-Lenox Globe near the eastern coast of Asia.  As cool as Here Be Dragons sounds, it was unfortunately not a mappers standard. What a drag for the dragons.
Ironically, what cartographers abhor, adventurous backpackers adore – terra incognita. Given advanced satellite imagery and Google Earth delivery, it is hard to imagine what on earth still qualifies as terra incognita. Not only has Google created a world of interactive street views, they have strapped cameras on hikers enabling trail views as well.  Okay, so the entire planet has been selfied. Boring. Short of sporting a winter balaclava, how can an adventurous backpacker feel anything remotely incognita?
Well let's not forget there are plenty of remote wilderness areas, small and large, with no mapped trails.  If you can't actually order up a tectonic plate of terra incognita, perhaps you can at least wander in for a reasonable entre of "vestigia incognita", or "tracks unknown."  Off trail, cross country, bush-wack, off grid, or vestiga incognita.  Regardless what you call it, getting off the trail may be as incognita as you are going to get.
John Muir loved to wander trail-less in the wilderness.  Ironically, so famous for that was he that a 210 mile trail now bears his name.  This John Muir Trail however, has become so popular that it feels a bit more highway than my-way.  It reminds me of the Yogi Berra quote: "Nobody goes there anymore, it's too crowded."  At times I feel like one of those nobodies.  And frankly, backpacking nobodies like to see, well nobody.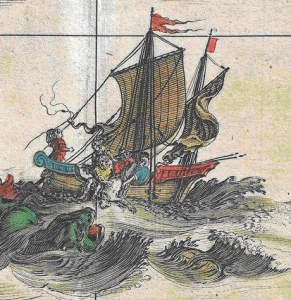 As an alternative to the John Muir Trail, rock climber and outdoor adventurer Steve Roper describes the Sierra High Route.  This should not to be confused with the High Sierra Trail which, though spectacular, is yet another established trail.  Roper's Sierra High Route is not a trail but rather a suggestion. It is roughly 200 miles in length, though your mileage may vary and batteries are clearly not included. Roper's route guides you on and off the topographic maps of Kings Canyon, Mono Divide, Mammoth, Yosemite, and Hoover Wilderness.  Roper went out of his way not to define a specific trail.  Doing so would be like taking an ancient map and erasing all the dragons.
There are adventurous dragon-free trails, such as the Appalachian Trail (AT) or the Pacific Crest Trail (PCT)  where backpackers can navigate with merely an elevation profile.  These well worn trails are reasonable enough to follow, if you just have the marathon willpower to keep placing one foot in front of the other, for months at a time. What these trodding thru-hikers likely want to know is: How much up and down today? Where's the next water?  How far to my campsite?  Rarely are thru-hikers in the truly dragon-infested land of the lost.  Lost to them usually means being spun around, heading blissfully down the trail in the wrong direction. It is quite amazing how different a trail appears when traveled in reverse.
Traveling vestigia incognita, however, requires additional skills to root out the route. With no trail or tracks as guides, you must translate map contours to the canyons, peaks and passes before you.  This navigational art and science is also a game.  And like other games, you do not always win.  Be prepared for the defeat known as being boxed-in or cliffed-out. Retreat, regroup, and counter attack are necessary strategies and frankly half the fun.
To some the frustration of not knowing exactly where you are, or where to step next, can be a total drag.  Those willing to walk off the trail and amongst the mythical beasts, however, are more likely to say: Bring the drag on!