Outdoor Adventures in Destin-Fort Walton Beach with Kids
It's no secret that we love showcasing fun and unique outdoor adventure destinations and locations here at RWMC. We often write about the importance of adventuring together as a family and how much that benefits everyone and solidifies family bonds. But even better than writing about it is getting to experience those bonding moments with my own family and create memories together. So today, I'm excited to share with you a bit about our family's recent trip to Destin-Fort Walton Beach, Florida and all the outdoor adventures the area has to offer families. There are so many amazing adventures to be had in Destin-Fort Walton Beach with kids! If the destination isn't yet on your family's bucket list, it should be! Let me tell you why…
*This post was sponsored by Destin-Fort Walton Beach. Activities and accommodations were exchanged for review purposes. All opinions expressed and all photos contained herein belong to the author.
Traveling with kids
There's something both magical and exhausting about traveling to a new place with kids. Yes, traveling with kids can mean endless whining, interruptions to your daily routine, and stress on mom to make the most out of the trip. But, it can also be an opportunity to make life-long memories, cultivate of love of adventure, and take some healthy risks by trying new things. Travel has been proven to have significant benefits for everyone in the family. So while it's exhausting, it's also totally worth it. 
Traveling to a new place and partaking in exciting new experiences with your kids is an amazing way to bond with your family. Our busy schedules often make it difficult for families to spend much quality time together on a day-to-day basis. But when you travel, you put aside your typical responsibilities and commitments so that you can be truly present with one another. 
Travel also allows you to learn new things about one another and try out exciting experiences that you otherwise might not have had the chance to. Experiencing new things together with those you love and trust helps boost your kids' confidence and fosters independence. And getting outside in a place that looks and feels different than it does at home gives your children a whole new appreciation for the natural world and the diversity of life. 
Traveling with family can be one of the most rewarding adventures you can have together. However, you do not need to travel all over the country or world to provide your kids with the benefits that family vacations generate. Sometimes, adventure is closer than you think!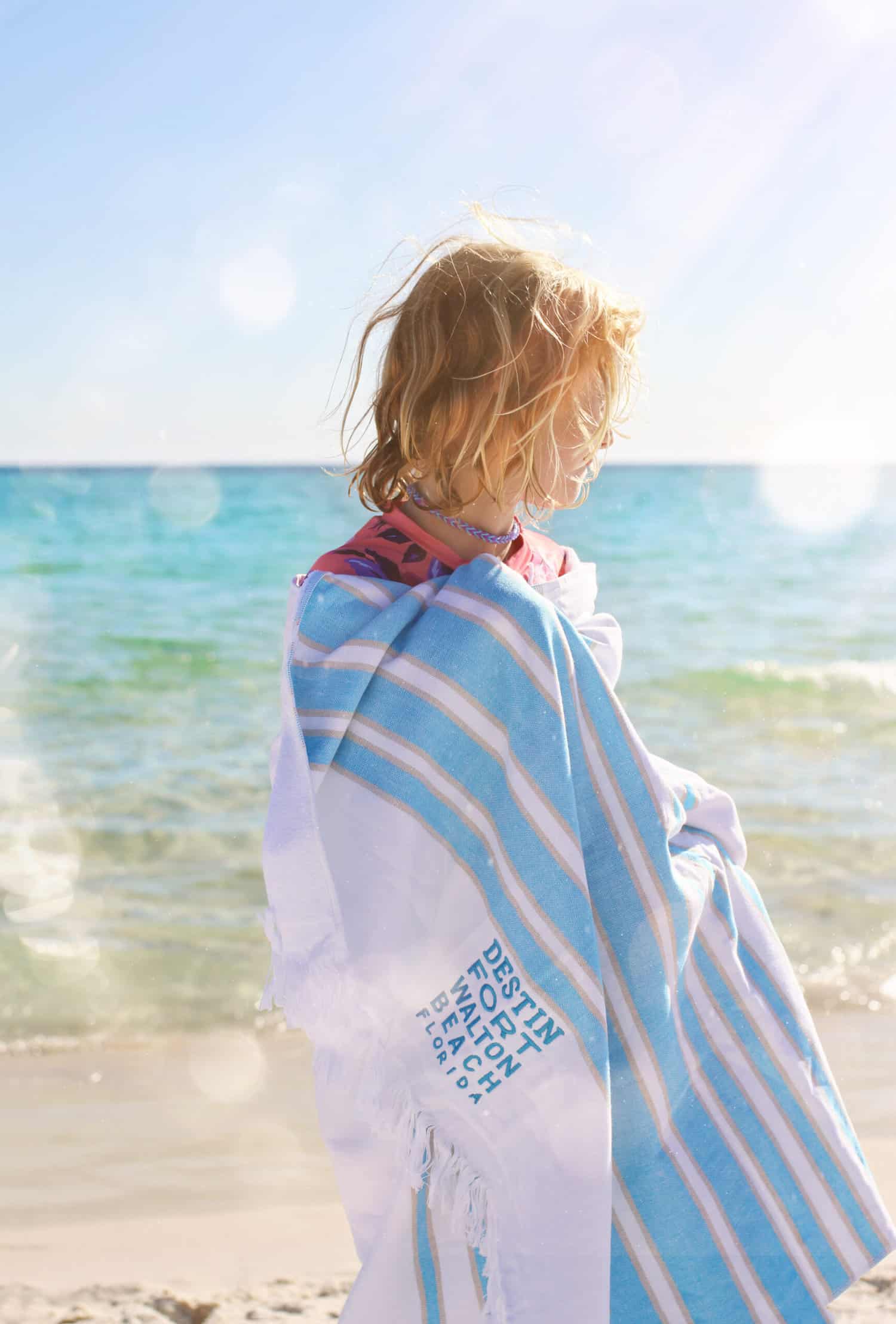 Exploring Destin-Fort Walton Beach
My kids and I recently had the opportunity to spend some time in and around Destin-Fort Walton Beach, Florida, to check out some of the amazing things to do outside with kids. I've been curious about the destination for years, but this was my first time visiting and really getting to know the area. Boy, am I glad we did! We were blown away by the incredible outdoor adventure activities and unique experiences Destin-Fort Walton Beach has to offer families. 
If you're unfamiliar with the area, let me take a minute to set the stage. Destin-Fort Walton Beach is located on the Florida Panhandle, between Pensacola and Panama City Beach. The city of Destin is located on a peninsula separating the Gulf of Mexico from Choctawhatchee Bay. The city of Fort Walton Beach is located on the mainland, just west of Destin.
The Gulf coast beaches are famous for their powdery, sugar-white sand and glistening emerald waters. The sand is made from finely ground quartz crystals that literally squeak beneath your bare feet! This gives the water in the area that famous blue-green hue that will take your breath away. On the other side, you'll find Choctawhatchee Bay, a calm saltwater oasis perfect for wildlife and perfect for exploring.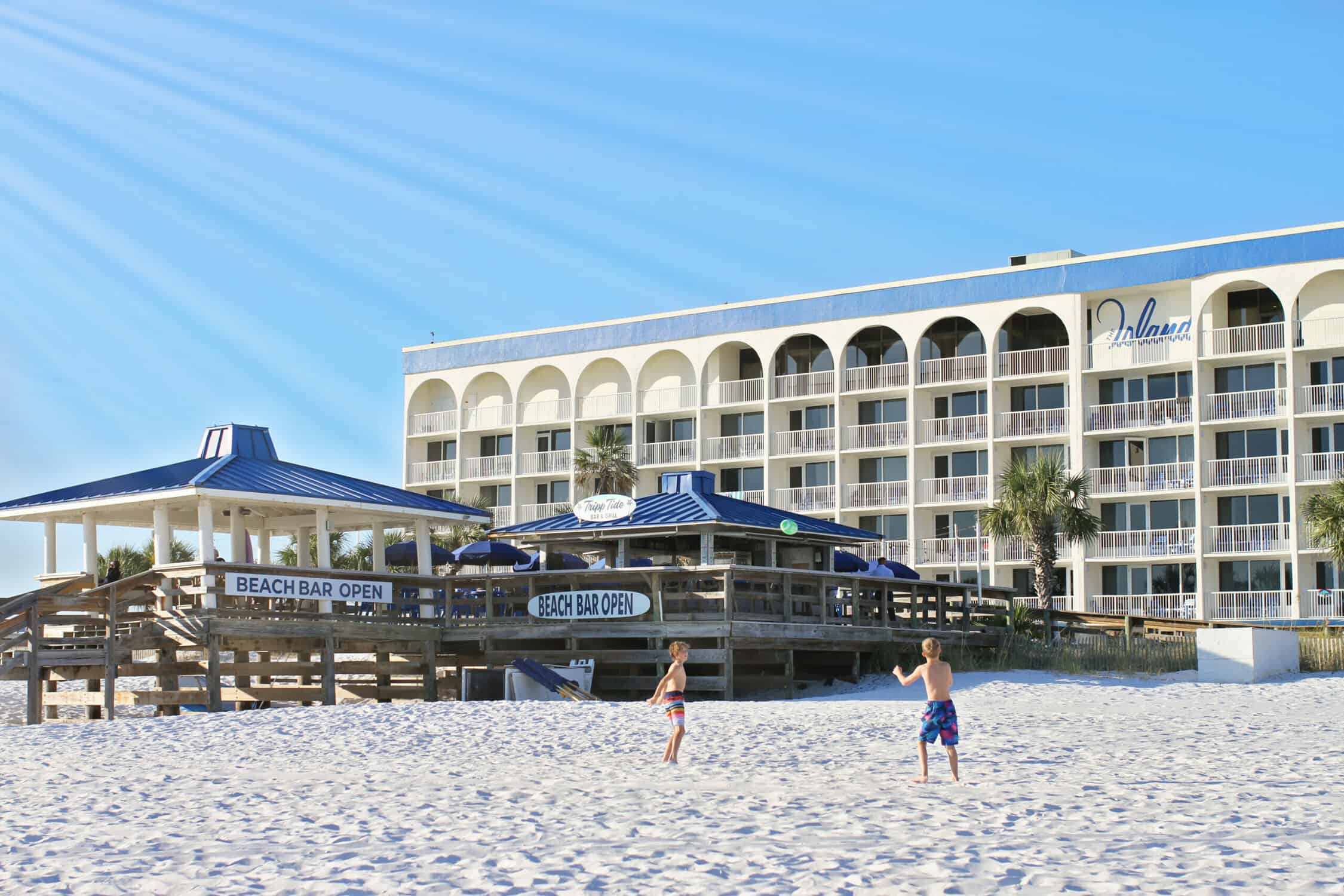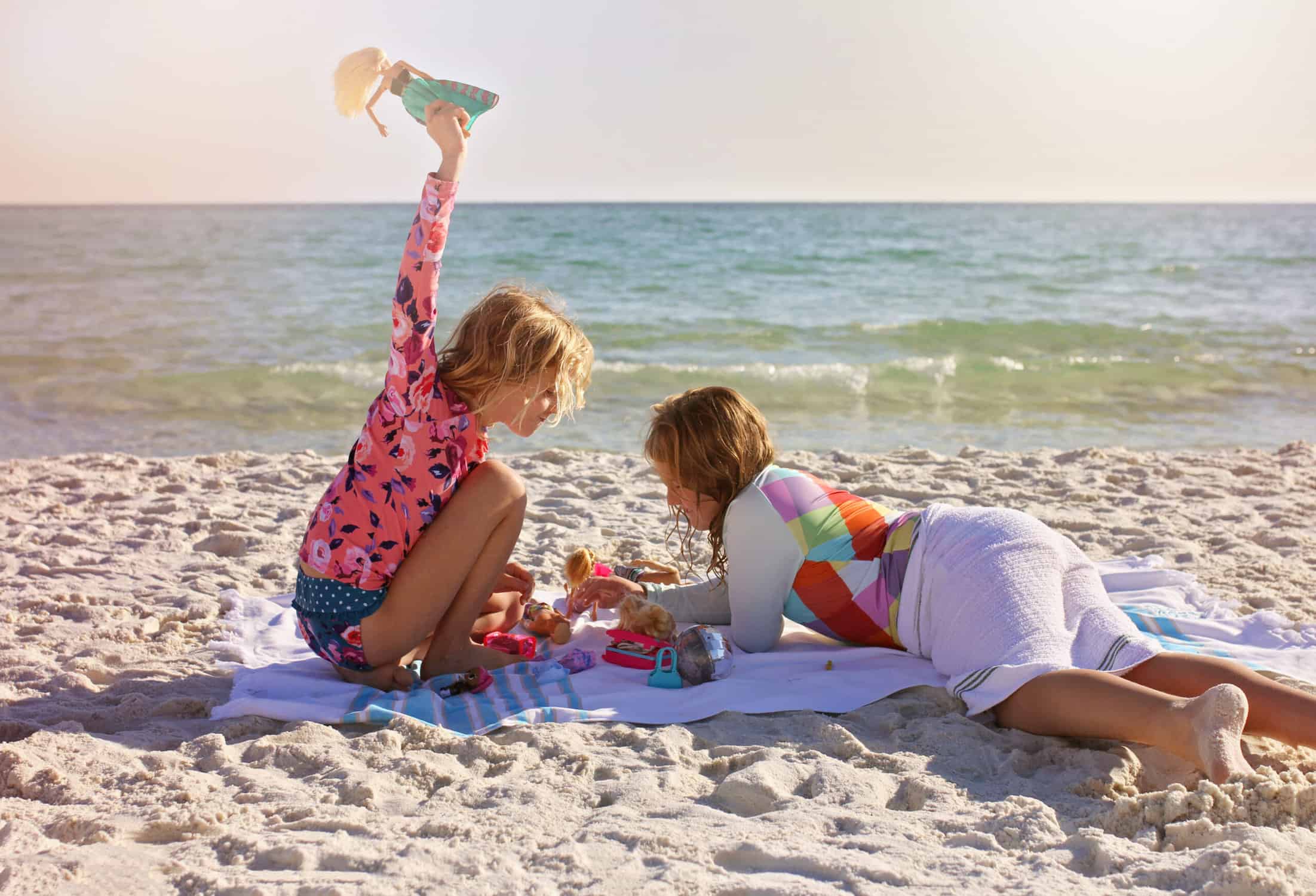 Pack your trip with "Little Adventures"
We've talked about how important it is to travel with your kids and try new things. But, when you're exploring a new area, how do you find the best outdoor activities and family-friendly experiences? Researching activities can be time-consuming, and the number of options for guides, places, and rental shops can be overwhelming. That's one of the reasons why we love it when destinations take it upon themselves to help families find unique location-specific outdoor activities in their location – because they know the area best! 
Destin-Fort Walton Beach has done just that! They're committed to helping families get outside in the area and see all the amazing things they have to offer. They've made exploring Destin-Fort Walton Beach with kids fun and easy!
Working with local moms, they've put together bite-sized family-friendly "Little Adventures" that feature unique experiences for families to get out on the water. It's "done-for-you" outdoor adventure planning, so you just have to show up and have fun! The Little Adventures activities are things like deep-sea fishing, kayaking, stand-up paddleboarding, tidepooling, dolphin cruises, sailing, snorkeling, surfing, camping, and more! 
Don't know what Little Adventure you want to do? All the available Little Adventure activities are searchable by price, age of your children, interest, and how much time they take. Or live chat with a local mom, right there on the website and get tailored recommendations for family fun and all your questions answered. You could also check out their Little Adventures map to see what activities are close to you. Kudos to Destin-Fort Walton Beach for making getting outside with kids super easy for moms!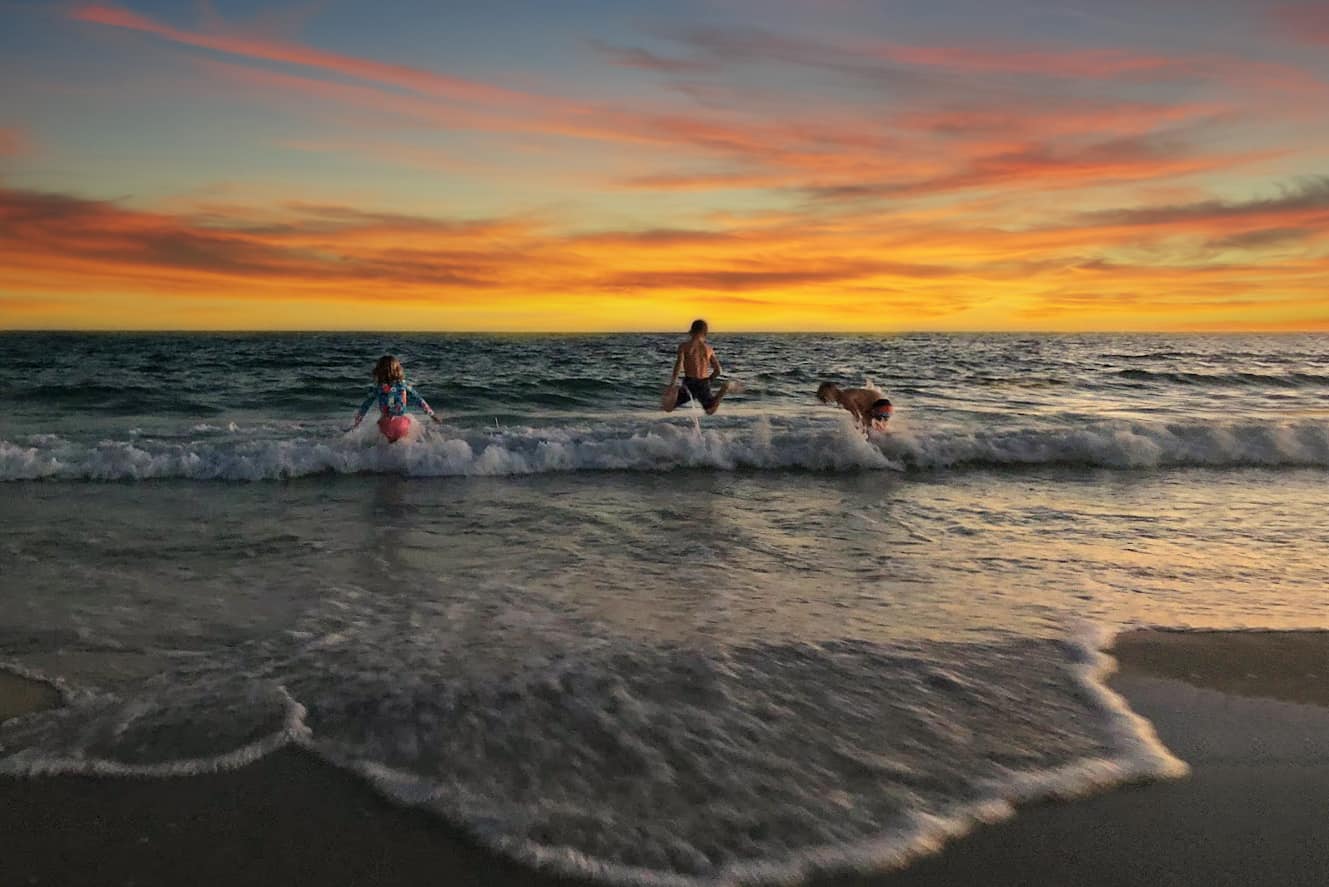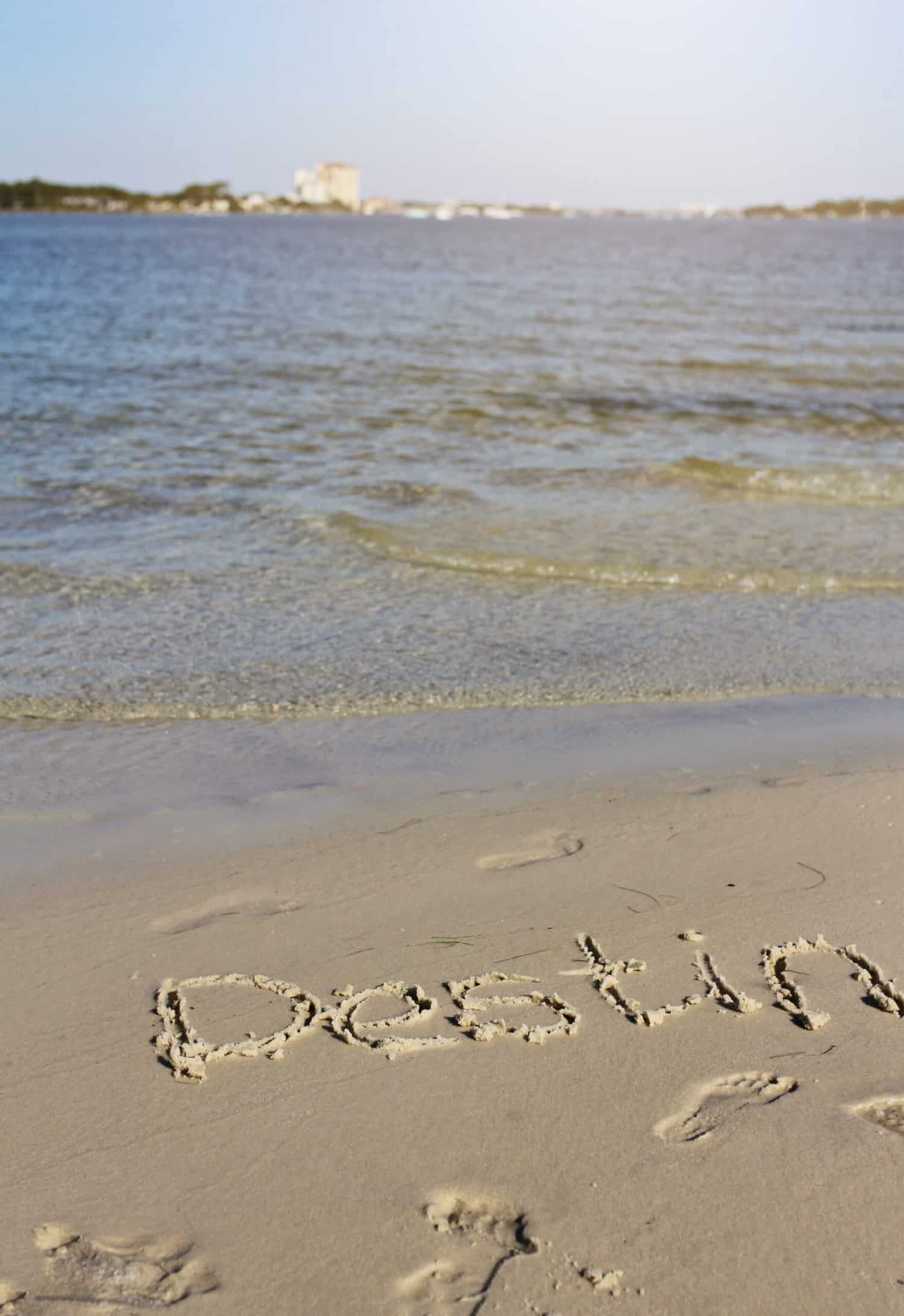 Outdoor activities for families in Destin-Fort Walton Beach
The combination of both Gulf Coast beach and inner bay means that the Destin-Fort Walton Beach area is the perfect location for water adventures of all kinds! And that's exactly what my water babies wanted to do most. Of course, we highly recommend that you spend some time on the pristine beaches, playing in the white sand and emerald green waves. But, there's so much more to this area than just beautiful beaches. It's packed with outdoor adventures for everyone in your family, regardless of age, interest, or budget. 
We had the opportunity to try out a few of the best outdoor Little Adventures the area has to offer. Needless to say, we were seriously impressed! There truly was something for all of us. My daughter fell madly in love with the white sand beaches and crystal clear water. My son took advantage of all the fish and native wildlife in the area. And I was blown away by the natural beauty of the areas we explored that were off the beaten path. 
For every adventure we did, there were ten others we wanted to do (we'll have to come back)! The Destin-Fort Walton Beach area truly is a magical family-friendly location. Here are some of the highlights from our trip that we'd love to recommend to you.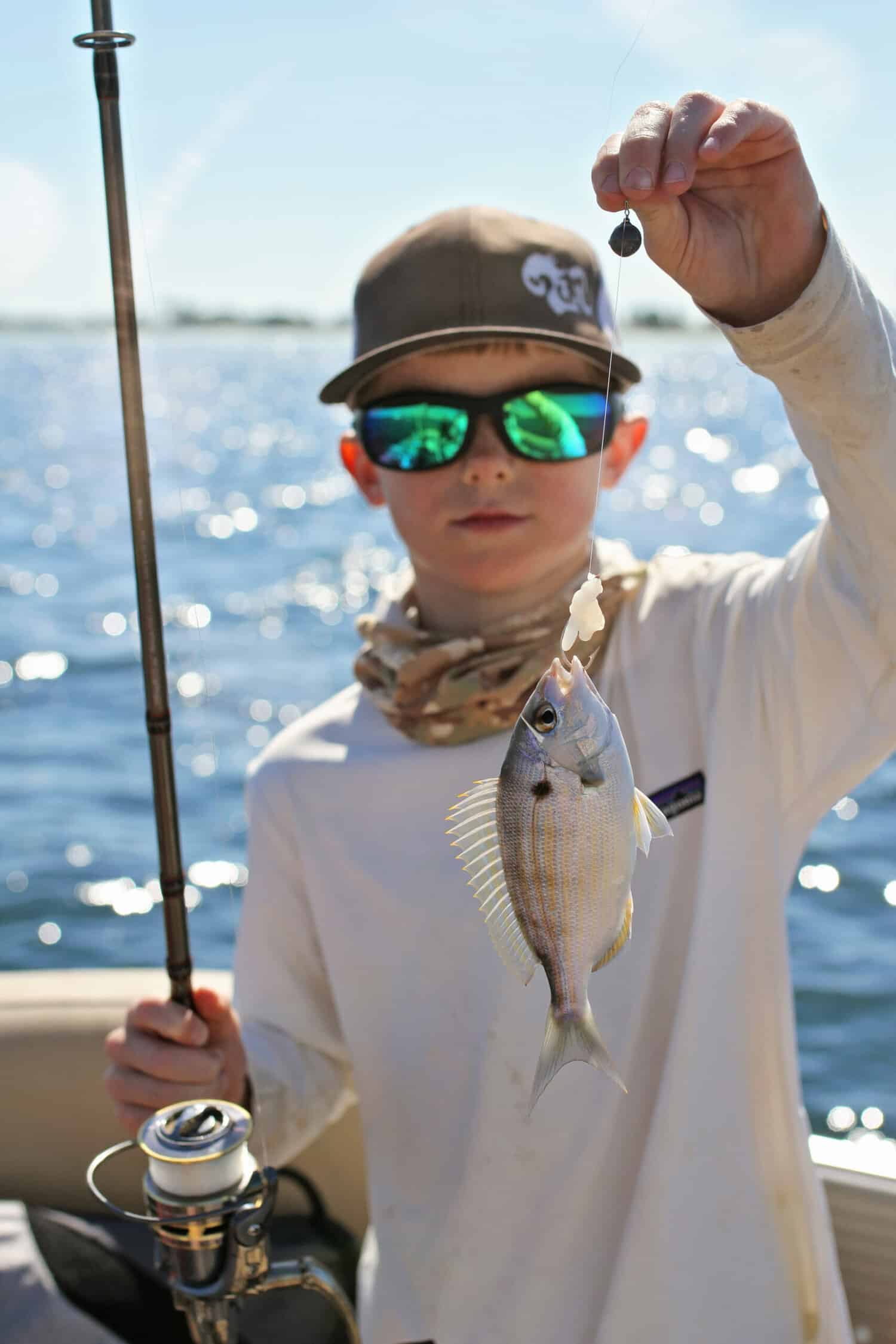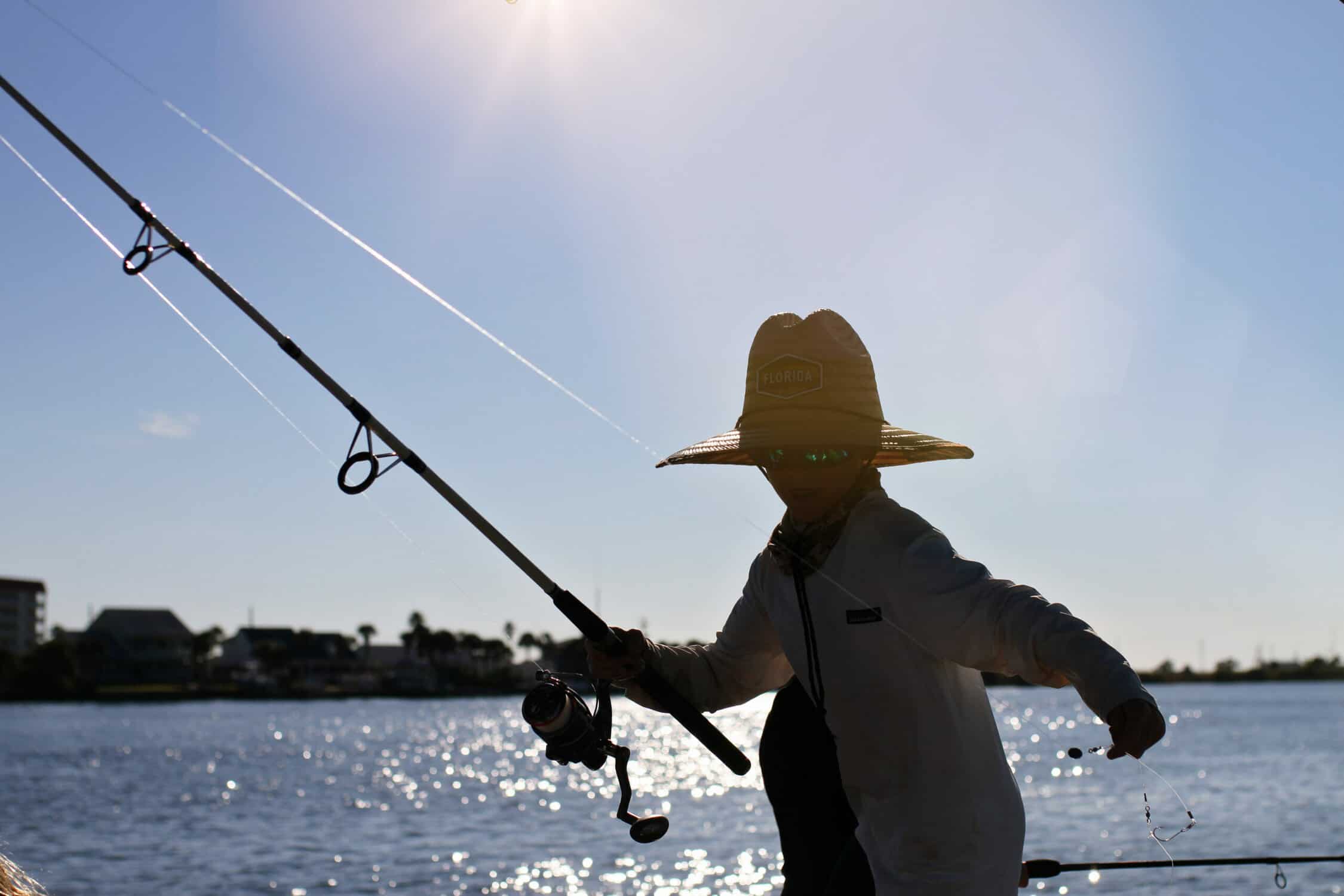 Fishing with kids in Destin
Let's start with our family's favorite outdoor activity…fishing.
Fishing with your kids is not only a fun bonding activity, but it's also an incredible way to teach them about nature and conservation. Fishing lets you create amazing memories with your kids, filled with action and adventure. And, from the "circle of life" lesson that comes with using live bait to the "leave no trace" principle of cleaning up after people, fishing is a way that parents can instill a love of nature and respect for the environment from a very early age. 
It's nearly impossible to talk about Destin, Florida, without mentioning fishing. The area started out as a small fishing village built around the Destin Harbor and is now home to the world's largest charter fishing fleet. The fishing boats line one side of the harbor from end to end and provide a livelihood for many locals, as well as adventure and entertainment for visitors. 
With a reputation as "The World's Luckiest Fishing Village," fishing is obviously one of the top outdoor family activities in the Destin-Fort Walton Beach area. Hundred of boats are available to rent for both deep-sea and inshore fishing. If you want help catching the big one, local guides are available to show you the ropes and get you in the right place with the right bait. But, a do-it-yourself attitude will also suffice, and your family can catch tuna, mackerel, cobia, snapper, and many other species right off the shore (or pier) in various locations throughout the area.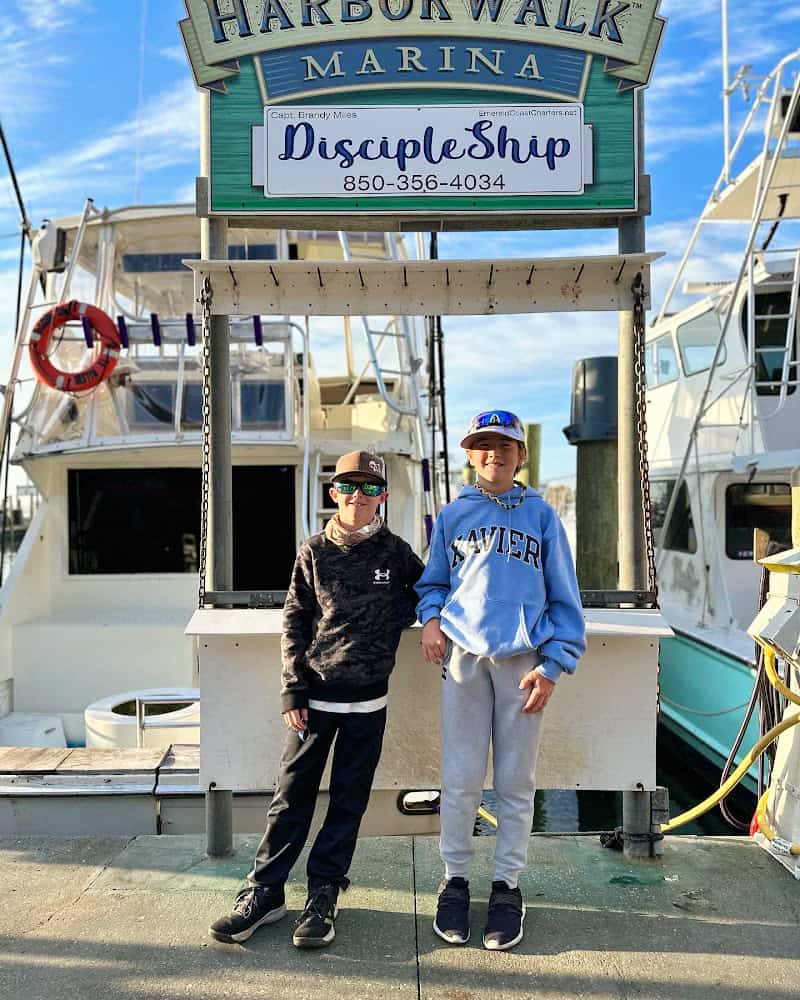 Deep-sea fishing with kids
At the very top of our list of "must do" activities in Destin was deep-sea fishing. As I mentioned, we're a fishing family, but deep-sea fishing is not something that we've had the opportunity to try (being landlocked makes it a bit difficult). But in Destin, deep-sea fishing is an experience all of itself! 
There are hundreds of charter fishing boats available to take your family fishing in the area, making deep-sea fishing in Destin-Fort Walton Beach with kids a great choice. And while you can certainly fish from the shore, deep-sea fishing is definitely something to try. Most charters offer half or full-day trips; we recommend starting out with a half-day trip if you have kids younger than 10. 
Hiring a chartered fishing boat will give you a lot of advantages over going it on your own. Experienced captains will know all the top fishing spots, be able to supply you with bait, poles, lures, and other necessities (as well as fishing licenses), and coach you on how to catch and land some massive fish! Most boats have bathrooms and air-conditioned cabins so that you can escape the heat on a warm day. And the best part…a great captain will take care of all.the.things, so you don't have to worry about the details and can actually enjoy your outing!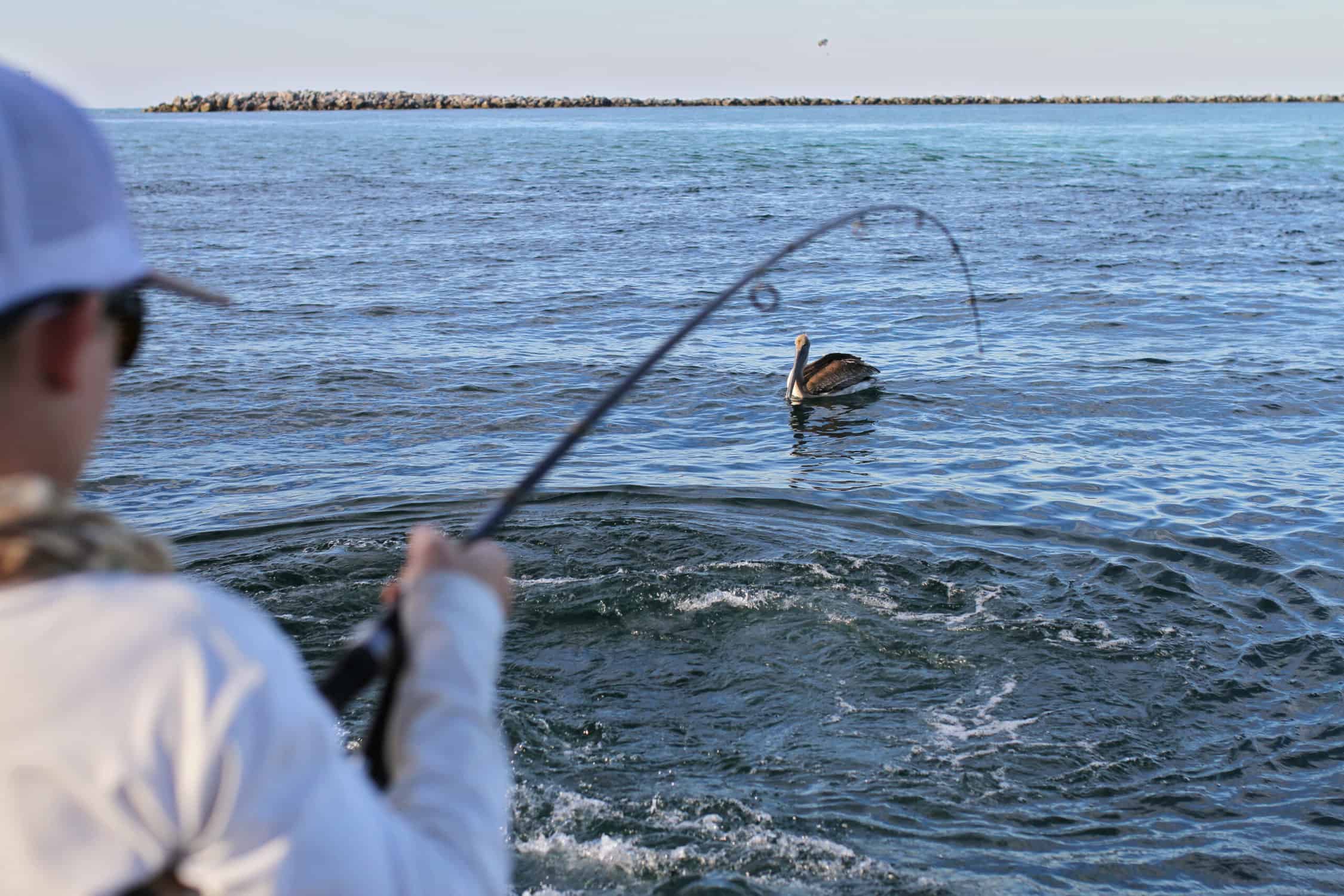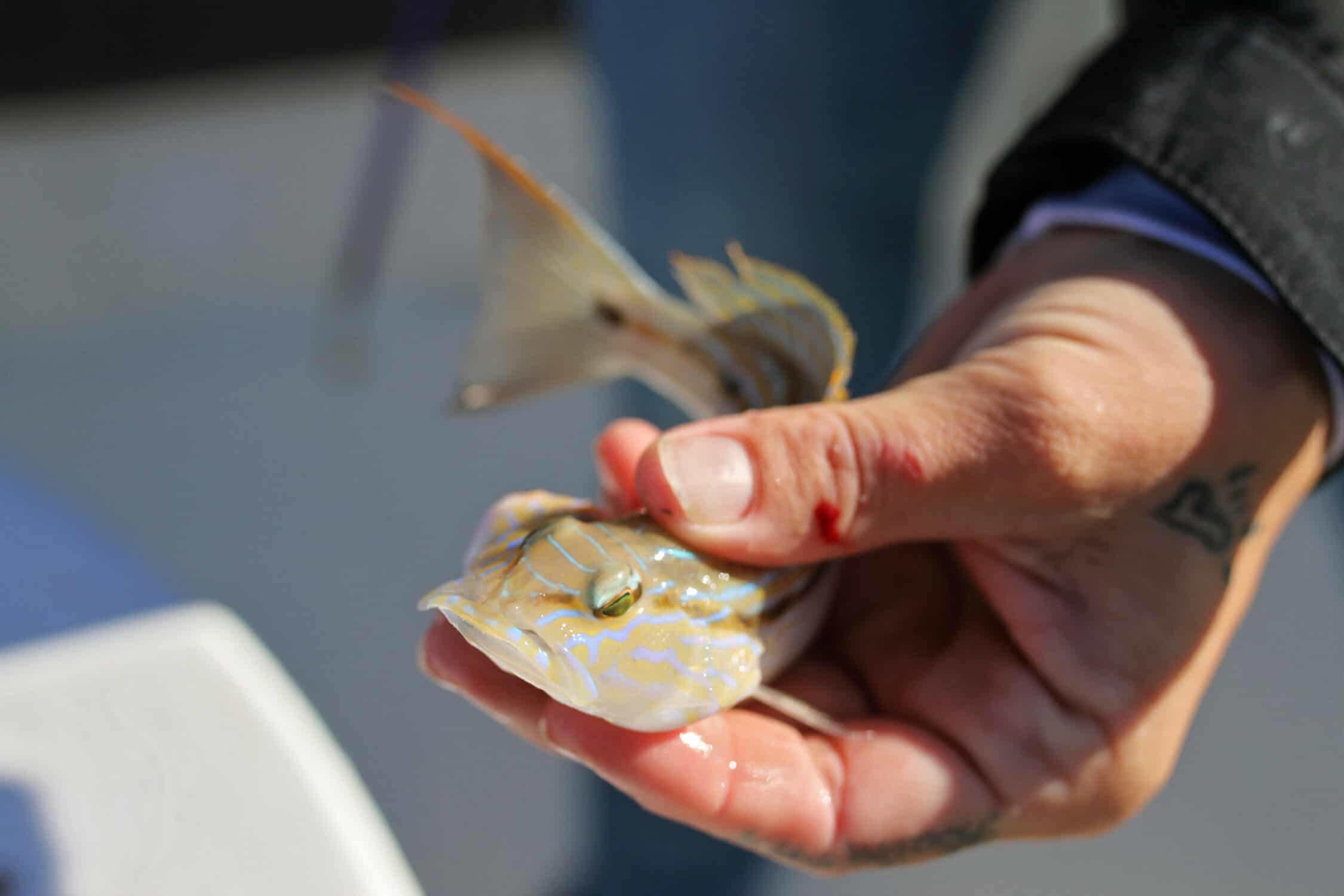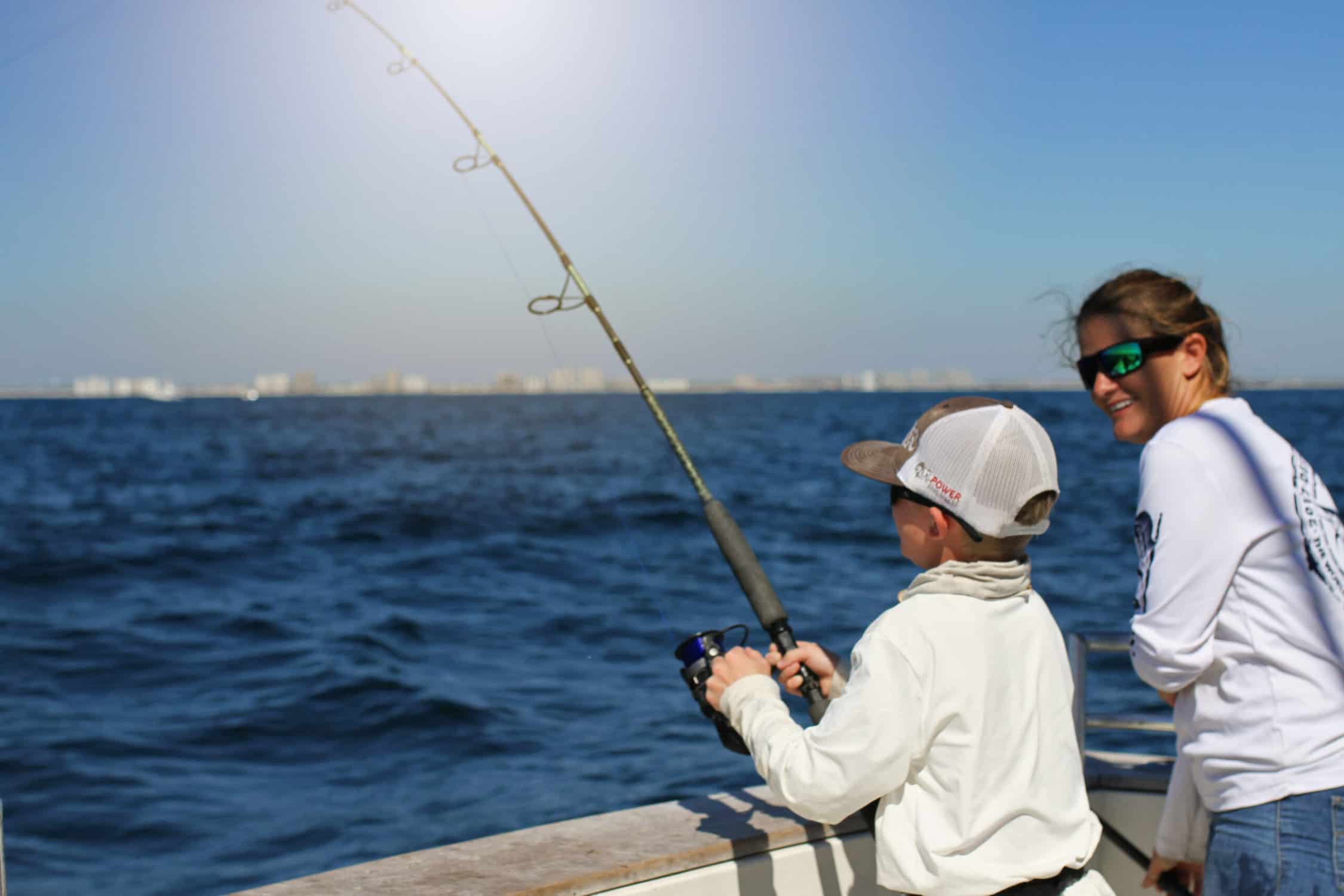 Fishing with Captain Brandy of Disciple Ship
We highly recommend hiring a fishing captain that's good with kids and knows how to get them on the fish. Luckily, we hit a home run with Caption Brandy of the Disciple Ship for our deep-sea fishing Little Adventure. We met Brandy at her boat in HarborWalk Village in Destin bright and early on a Sunday morning. A mom of 5 and the daughter of a Destin fishing captain, she not only knows her stuff, but was absolutely fantastic with the kids. We went over the basics of what to expect and how to stay safe before heading out into the Gulf to get our fishing on! 
The first stop of the adventure was to load up on bait. I'll tell you right now…bait fishing was a blast! Every dip of your line into the water resulted in pulling up 2-5 shiny little fish (and battling the pelicans over them). We were catching fish faster than we could pop them off the line! We caught all kinds of little fish (and even a squid!) and listened intently as Brandy told us about what we were catching. If your kids are into fast-action fishing and learning about various fish species, they'll love this part of the experience.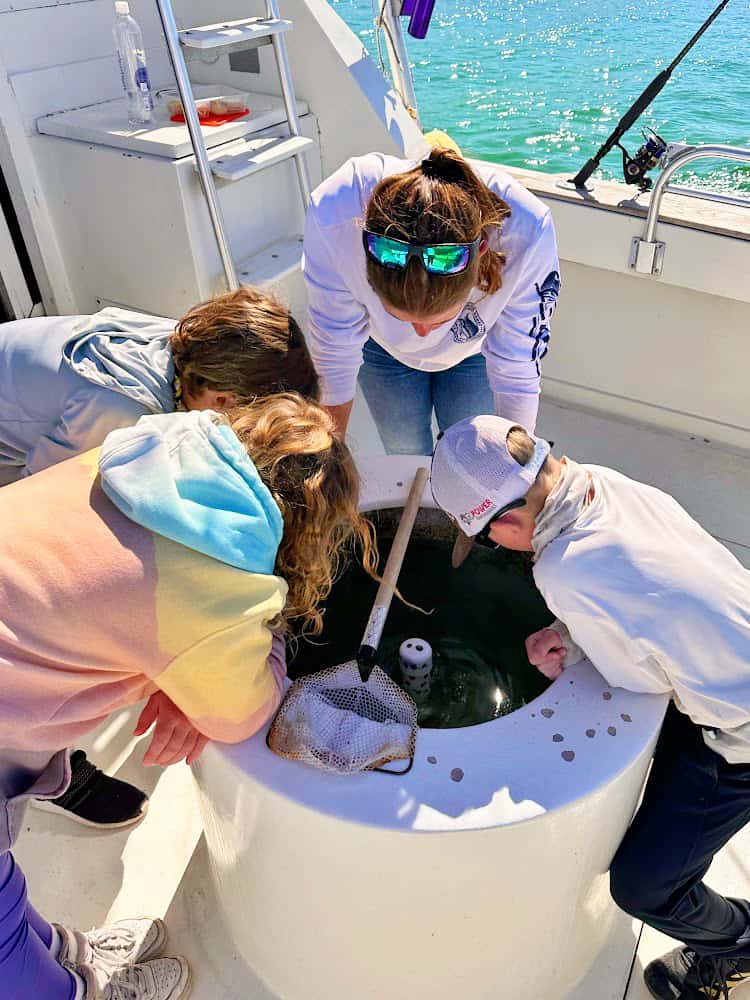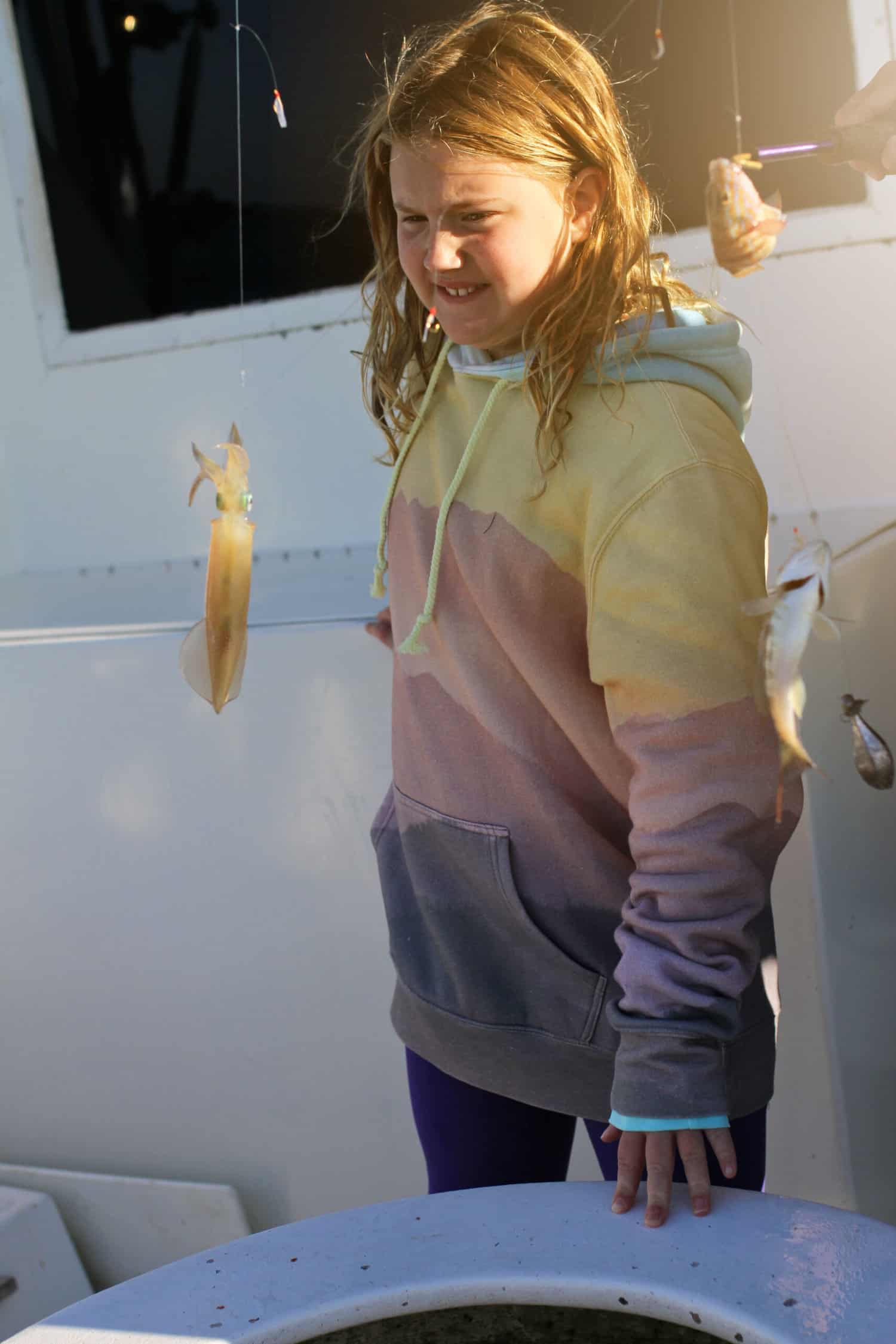 Getting on the fish
After you've loaded up with bait, it's time to head out into the Gulf to fish. Captain Brandy immediately put us on the fish and pretty soon we were reeling in fish after fish. Our catch included red snapper, blackfin tuna, remora, triggerfish, and mahi. I was super impressed with how hard these fish can fight and the resulting strength and determination my 10-year old demonstrated in getting them to the boat. Yes, we missed a few big ones (including what we think was a huge grouper and possibly a shark or two), but we ended up with a great catch and huge smiles on our faces.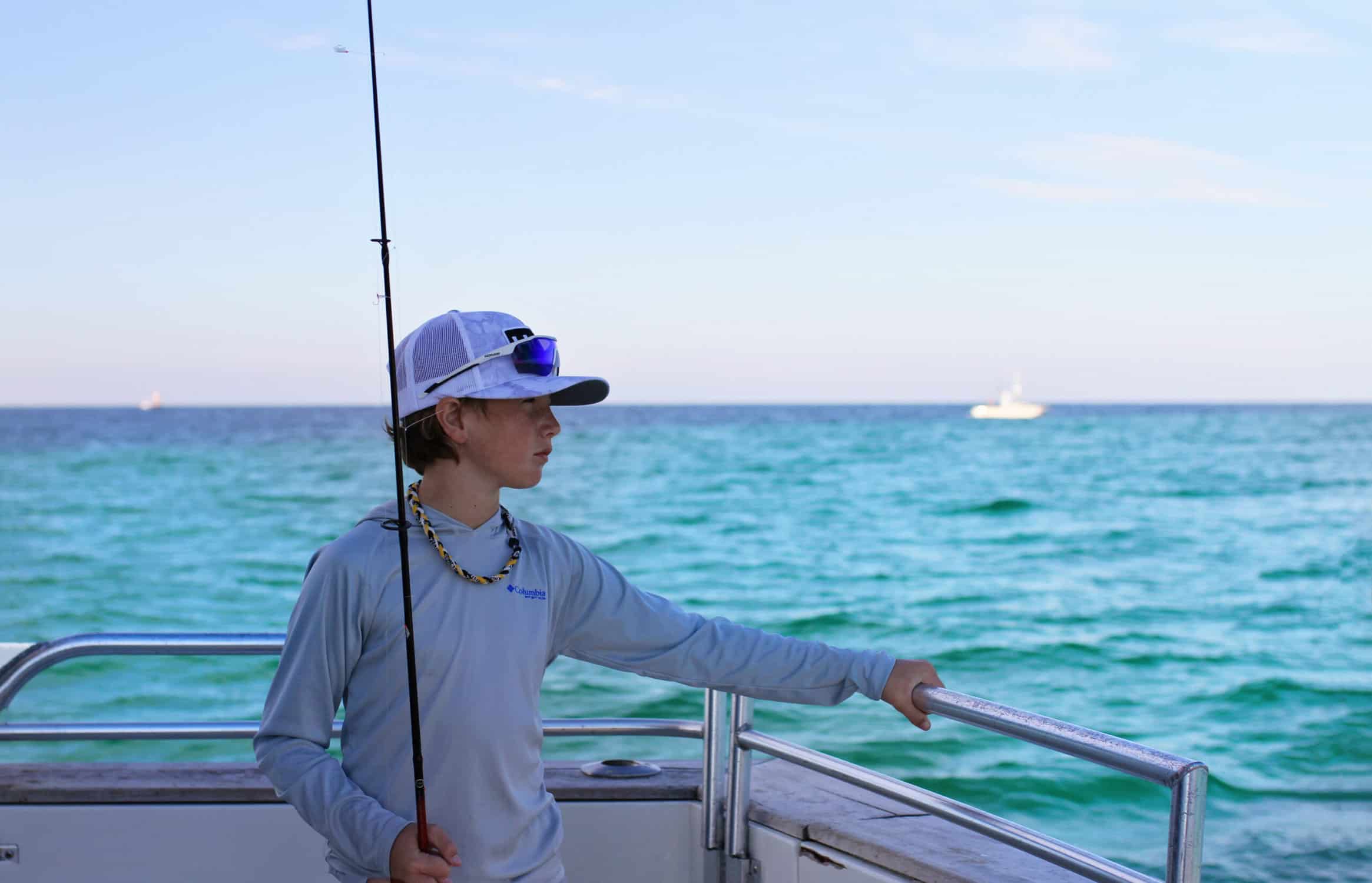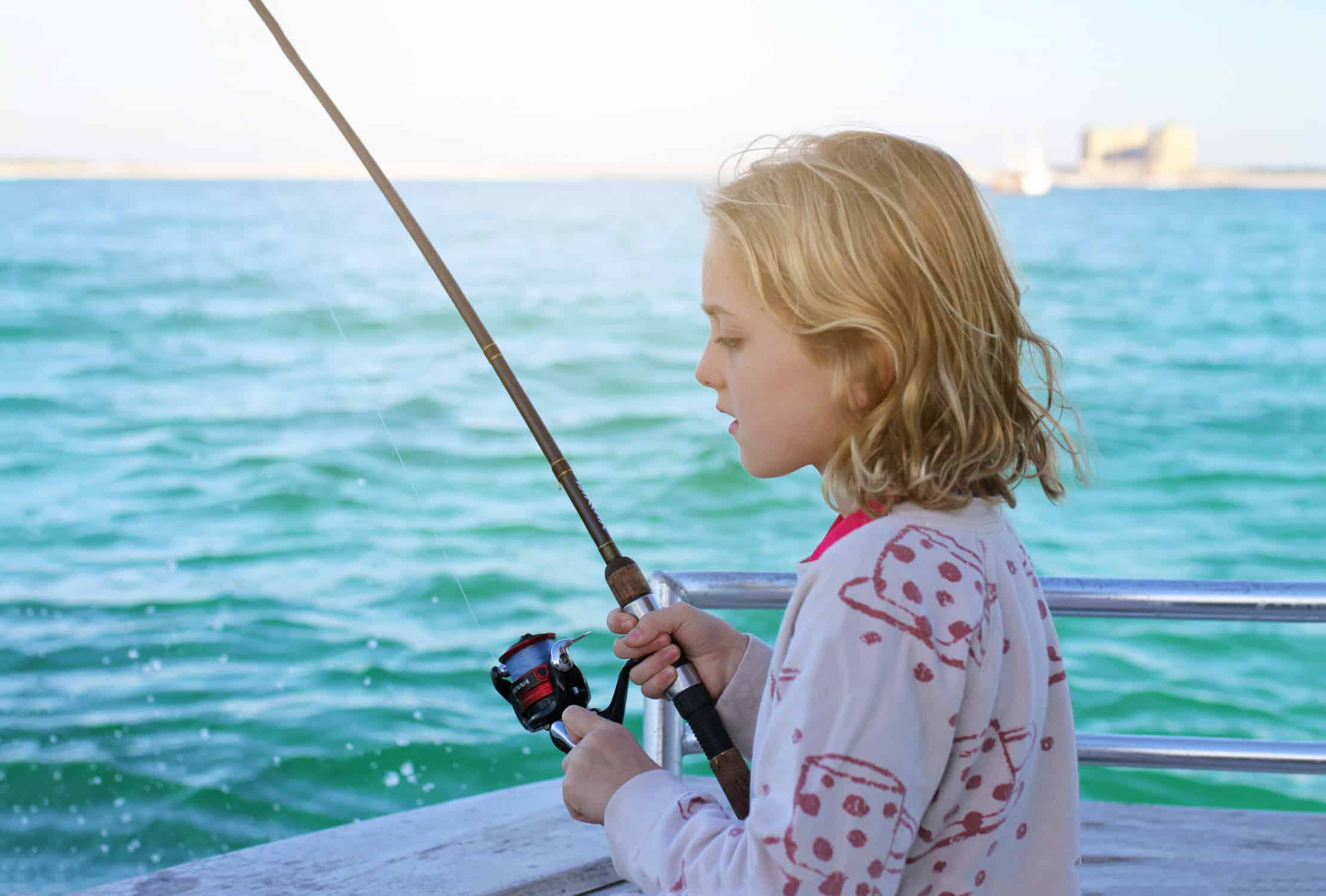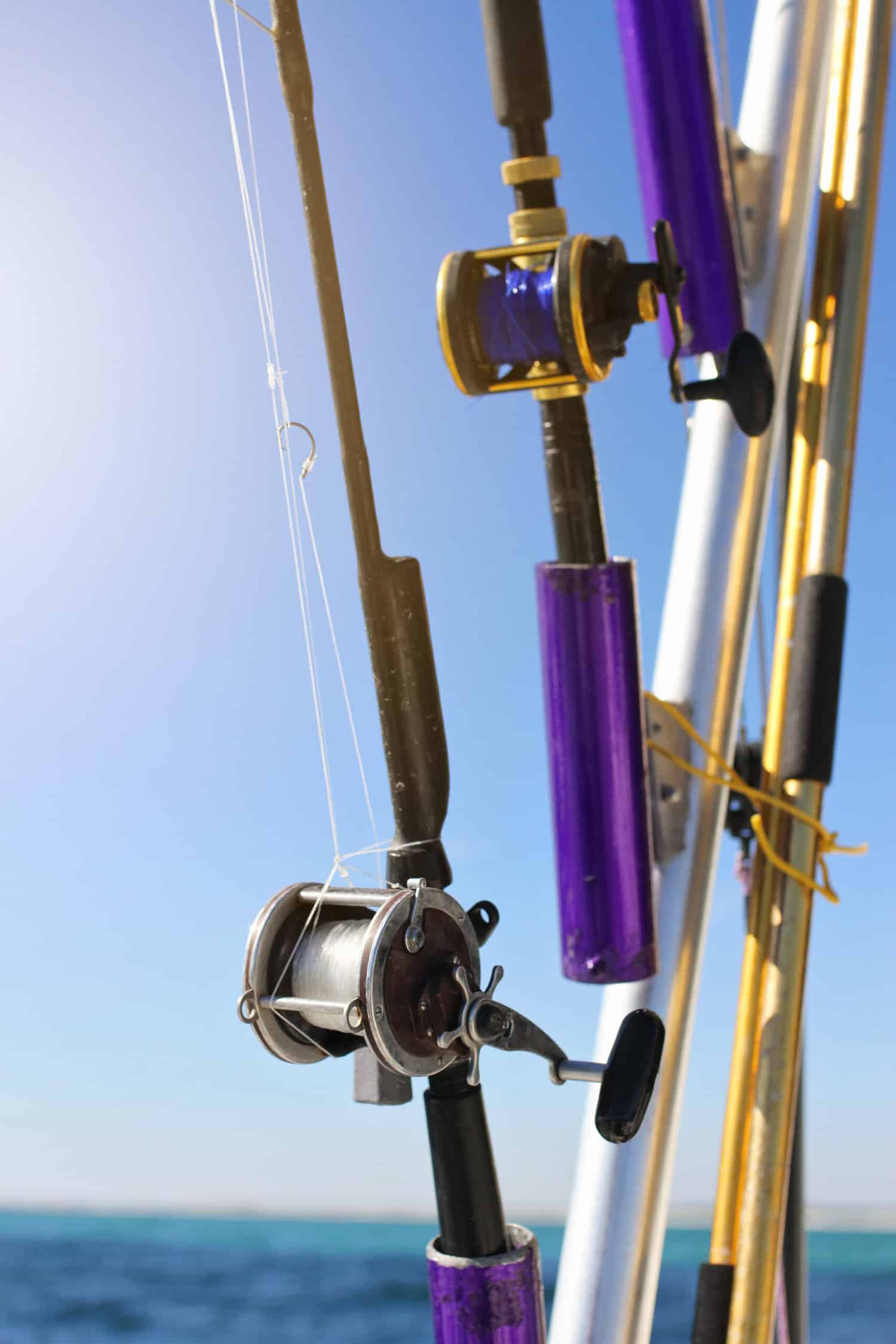 The reality of adventuring with kids
Here at RWMC, we pride ourselves in being honest about our experiences (good and bad) so that we paint a realistic picture of how tough parenting outdoor kids can be. Traveling with kids and trying new things can be hard, and the adventure doesn't always go as you expect. We still think it's worth it to try (1000% worth it), but we also want you to know that it doesn't always go smoothly (even for us), and misadventures happen. 
Unfortunately, three of the four kids did not feel great on the boat. We took Dramamine before we left, made sure we had breakfast, brought plenty of water and snacks, and spent a lot of time staring at the horizon, but it wasn't enough. Halfway into our fishing experience, we had to head back to shore to drop off sick kids. It broke my heart and theirs. It's hard to see kids not feeling well, and they were all so disappointed not to be able to finish out the fishing trip. It was a tough decision but the right one. We split up, and three of the kids went back to the hotel to play on the beach (and felt totally fine once they were onshore), and I stayed with the kid that felt fine and continued fishing. 
Be flexible; expect the unexpected
It wasn't what we wanted or expected, but I think we did the best we could in being flexible. Sometimes that's all you can do in the situation. Sometimes adventures don't go as planned, so being willing to make accommodations and roll with the punches can make a huge difference.
Captain Brandy was so kind about the situation and understanding. She made sure my son got as much of an amazing deep sea experience as he could, with extra attention and lots of encouragement, and hands-on training. And the other kids had a blast playing on the beach and having some fruity frozen drinks. Of course, we were all disappointed that deep-sea fishing didn't work out for everyone, but luckily, there are so many amazing things to do in Destin-Fort Walton Beach with kids, that the alternatives are still pretty fantastic.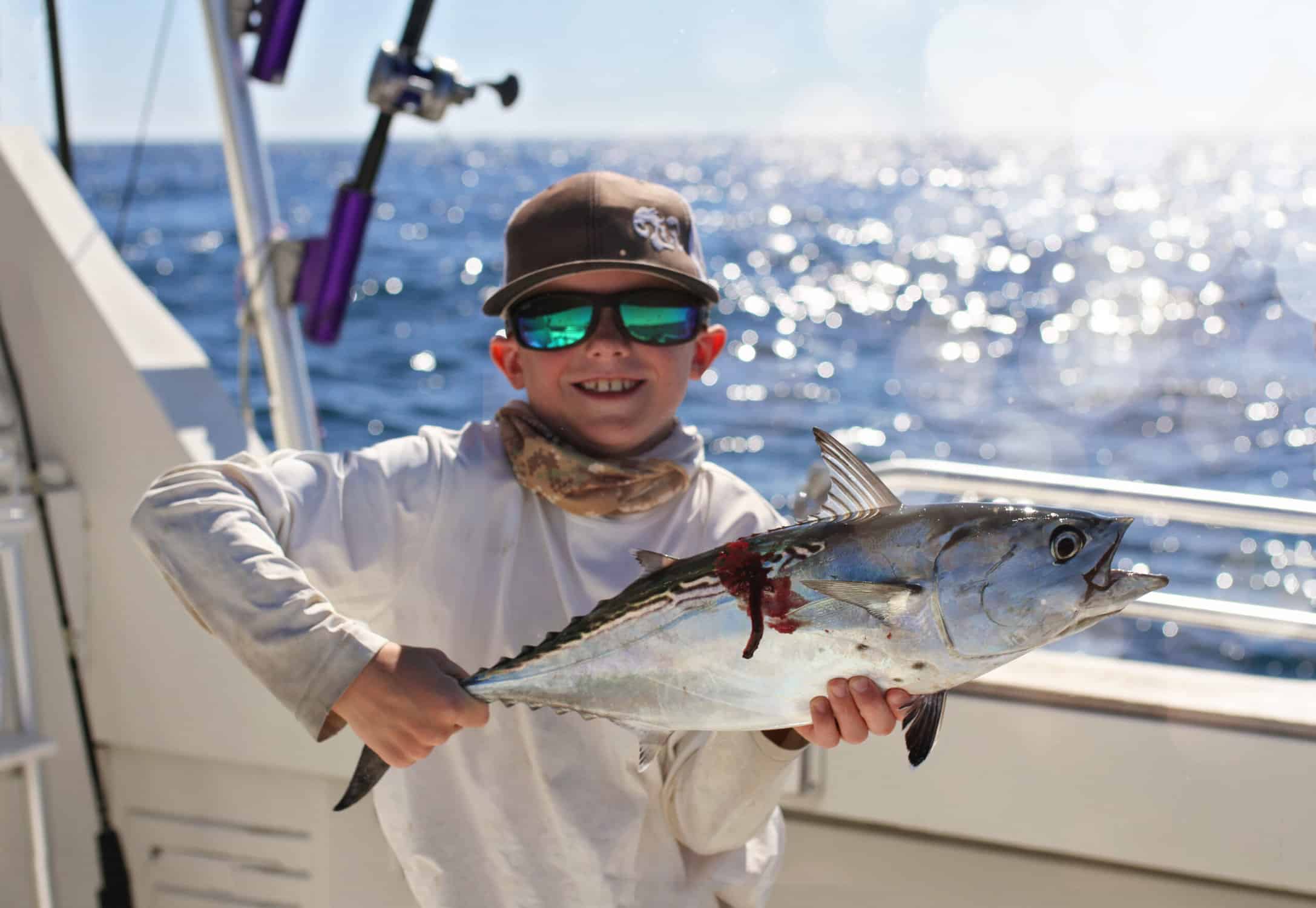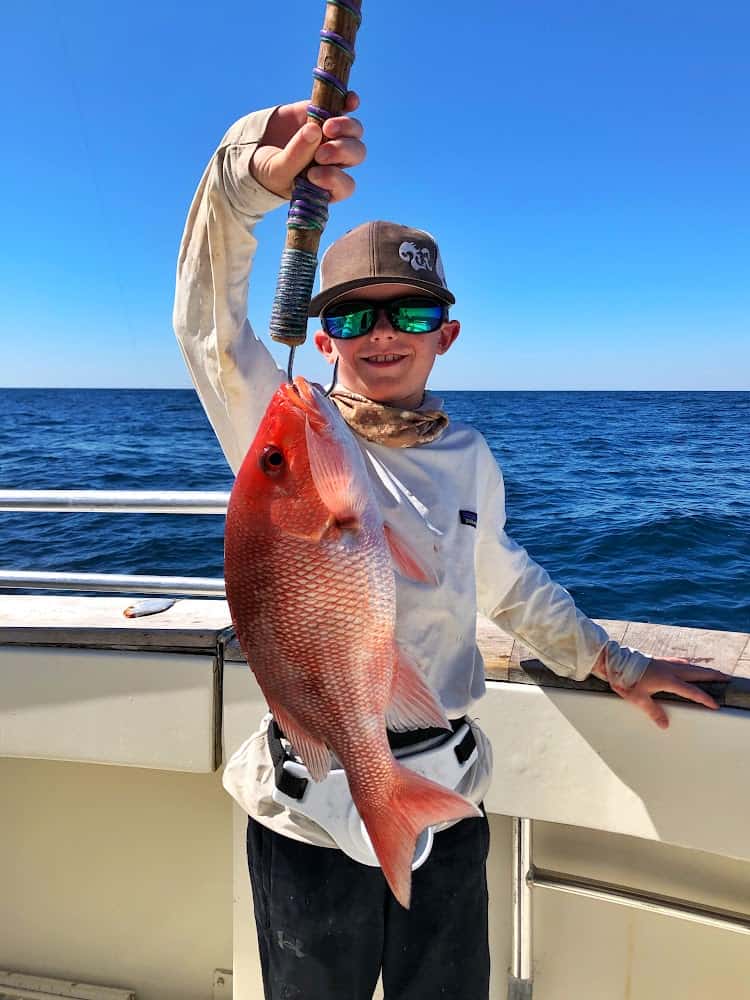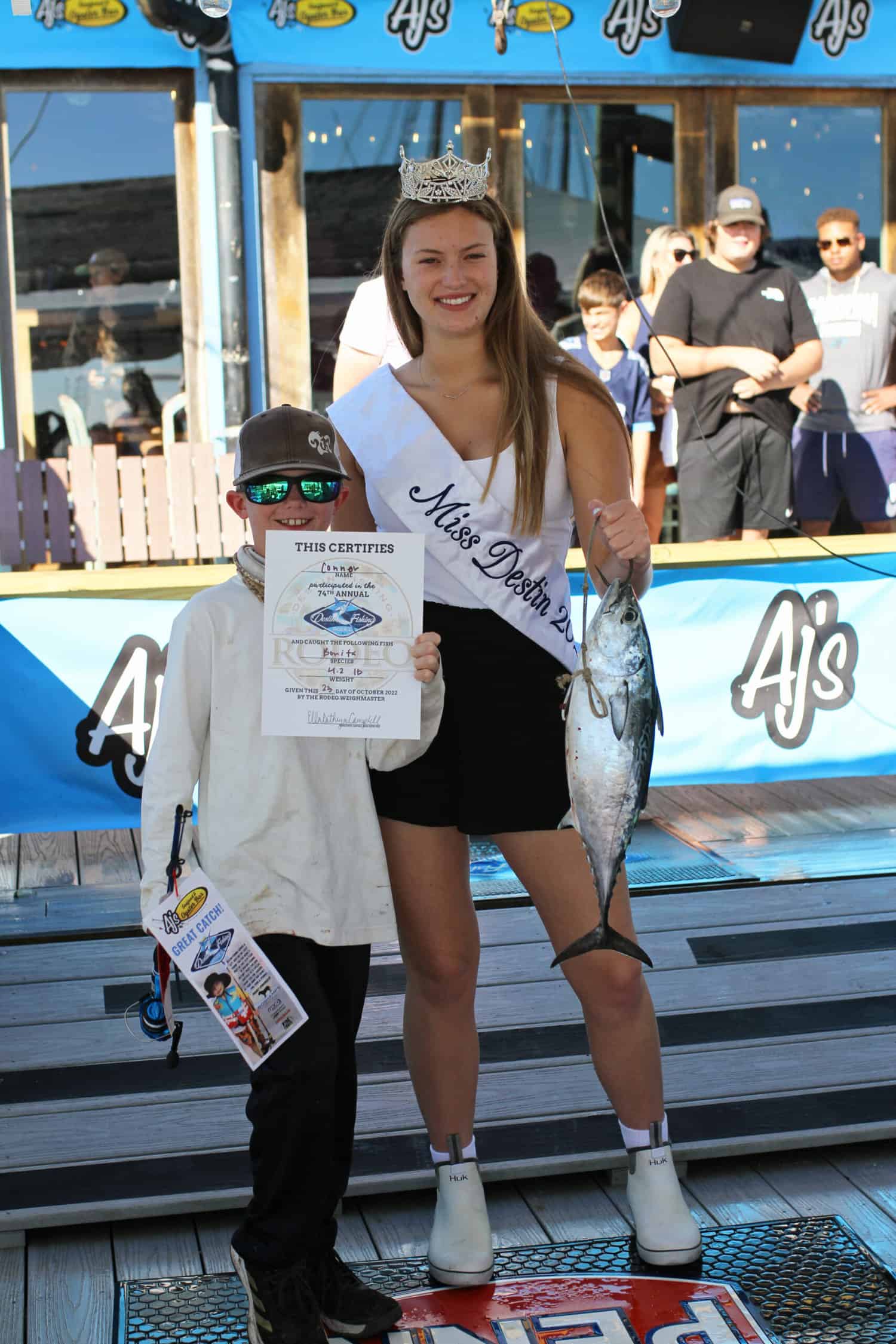 Destin Fishing Rodeo
The Destin Fishing Rodeo is a fishing competition that lasts the entire month of October. Originally started to bring some additional tourism to the area, it helps extend the tourist season into the fall and attracts fishermen and fisherwomen from around the world! Today, anyone can register to enter the competition, and there are multiple prizes awarded daily and monthly for the largest catch in each of the specified categories. 
By chartering a boat, we were automatically entered into the Fishing Rodeo! (If you don't charter a boat, you can still pay to register in one of the other categories and fish by kayak, SUP, private boat, or from the shore.) Each day, from 10 am until 7 pm, there are daily weigh-ins at AJ's Seafood & Oyster Bar in HarborWalk Village. The biggest fish make the daily leaderboard and qualify to win a cash prize!
The best part is that every child who enters a fish in the Destin Fishing Rodeo that weighs one pound or more gets a rod and reel, and a certificate for framing! We were so excited to take our biggest fish to the weigh station and get entered in the competition. While he didn't catch anything too big, my son still made the leaderboard and stayed there until the end of the day (when another kid's catch overtook his). He didn't even care that he didn't win; he was just so excited to be a part of the whole experience.
And what an experience it was! People were packed around the weigh station, watching the catch come in. The giant leaderboard was filled with some seriously impressive numbers. The announcers were making jokes, drinks were being passed around, and there was so much fun and excitement in the air. It was really something to see!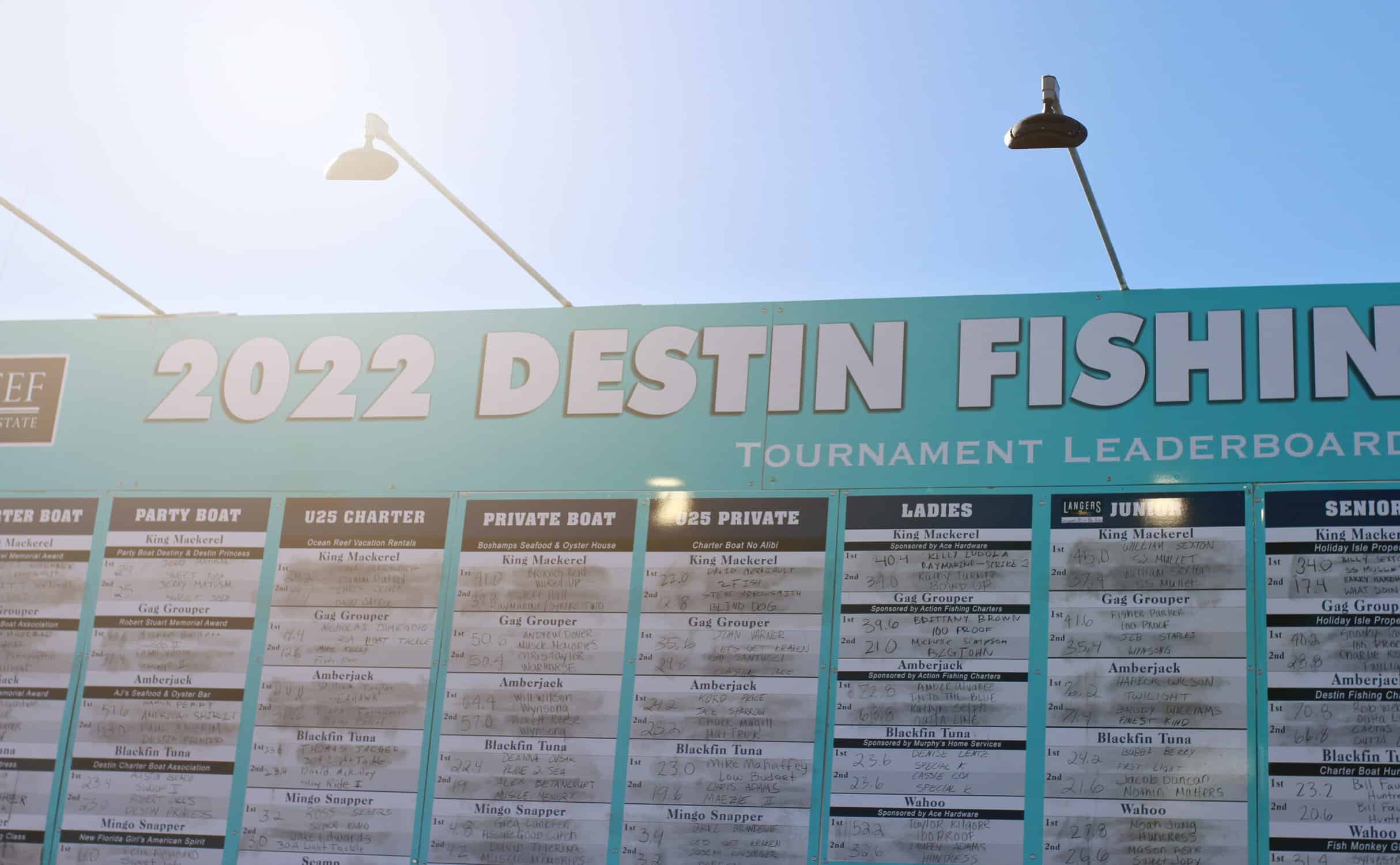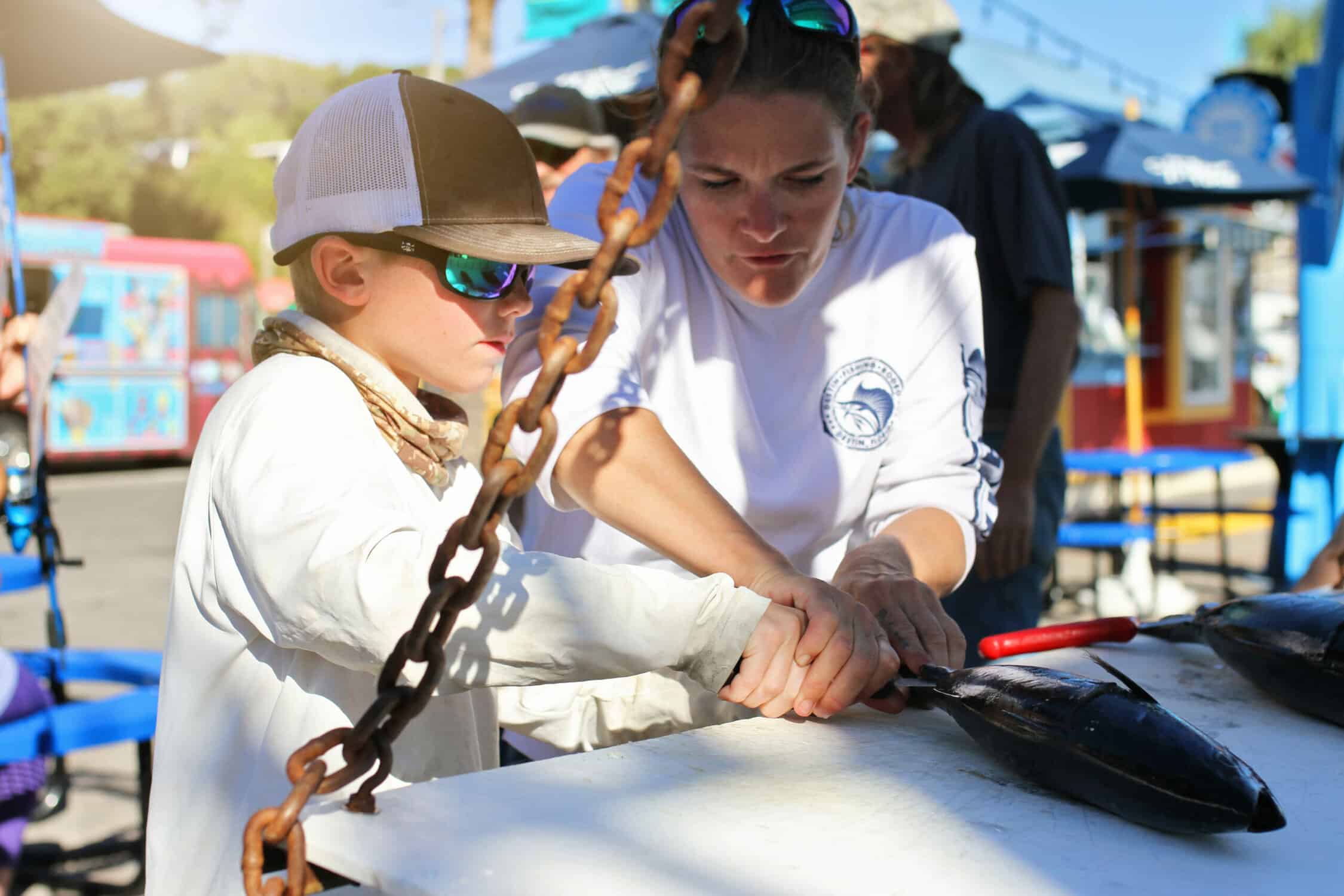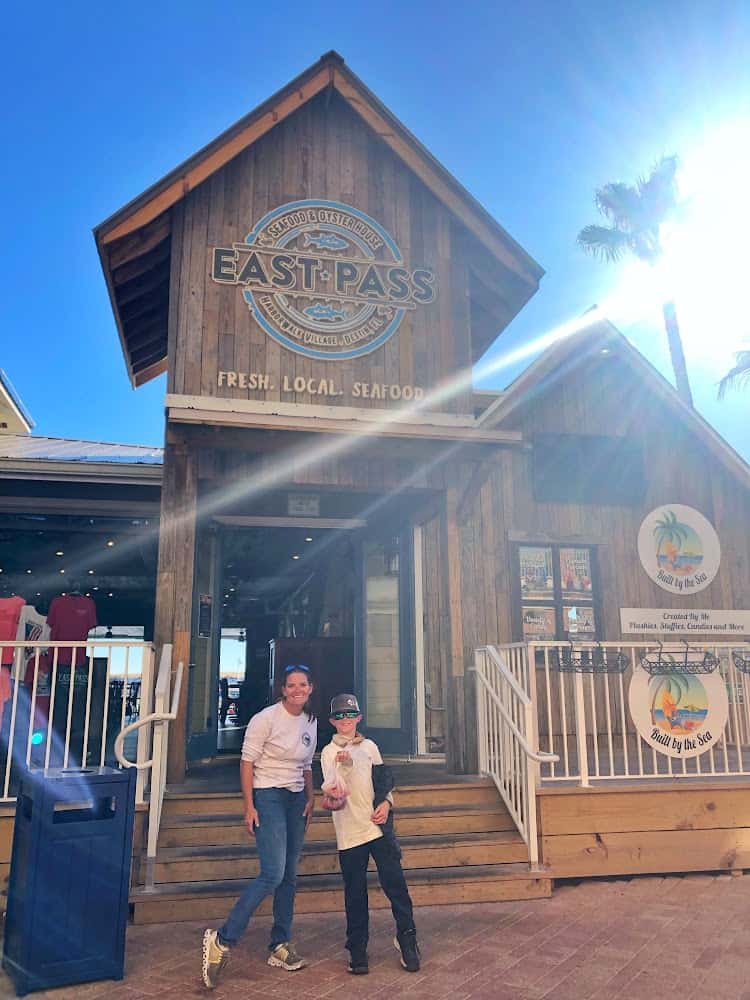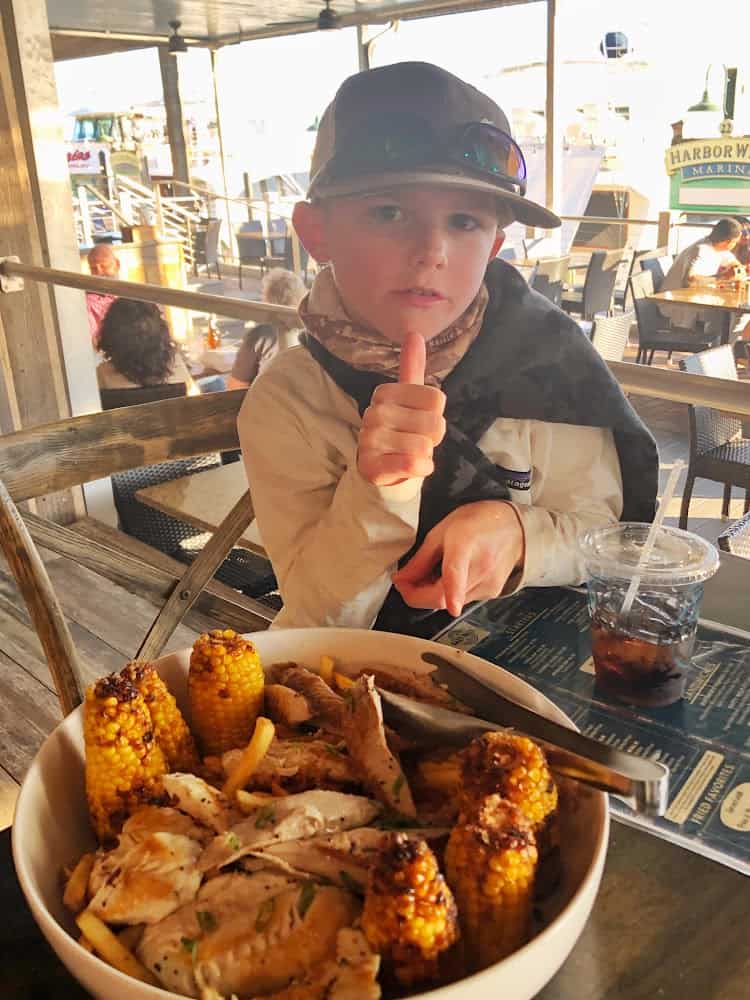 Clean, catch & cook
But the fun doesn't end there. After our catch was weighed and recorded, it was time to clean the fish! Part of our fishing experience included getting to eat the fresh seafood that we caught, which we couldn't do until it was cleaned and ready. Captian Brandy expertly showed my son how to clean the fish and got him involved in every aspect of the process. He loved taking care of his catch and it gave him so much pride to bag it all up and drop it off at East Pass Seafood, where they cooked it for us! 
Talk about delicious! East Pass Seafood & Oyster House offers a "Hook & Cook" option for anyone that brings in their fresh catch. They'll cook the fish for you – blackened, fried, or seared – and pair it with one of their amazing sides per person. We choose to get our fish seared, and accompanied by grits, corn, fries, and mashed potatoes. It was incredible! There's something truly fantastic about eating fish you caught yourself just hours ago in the open air, as you sit by the water and watch the boats come it. What an experience!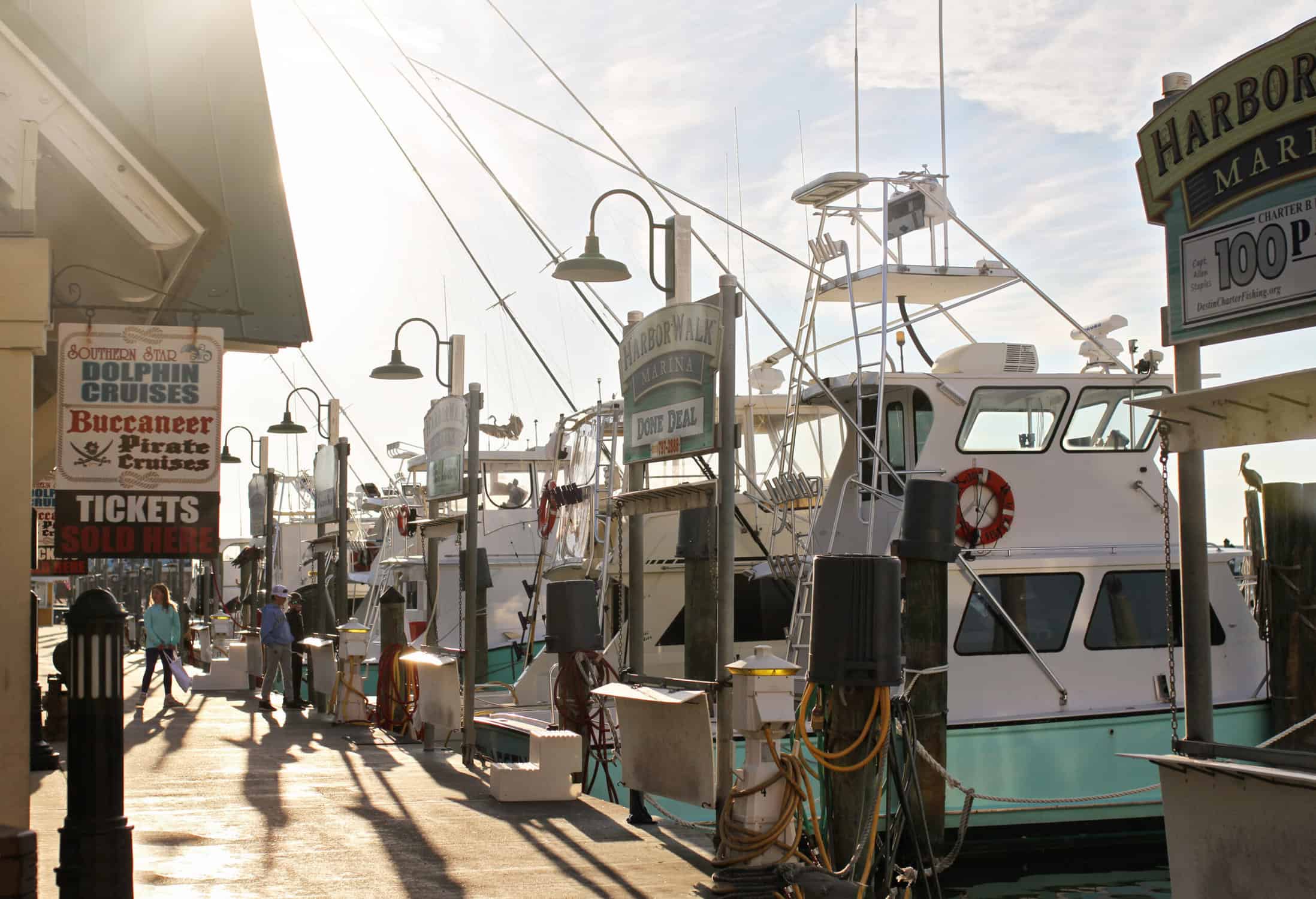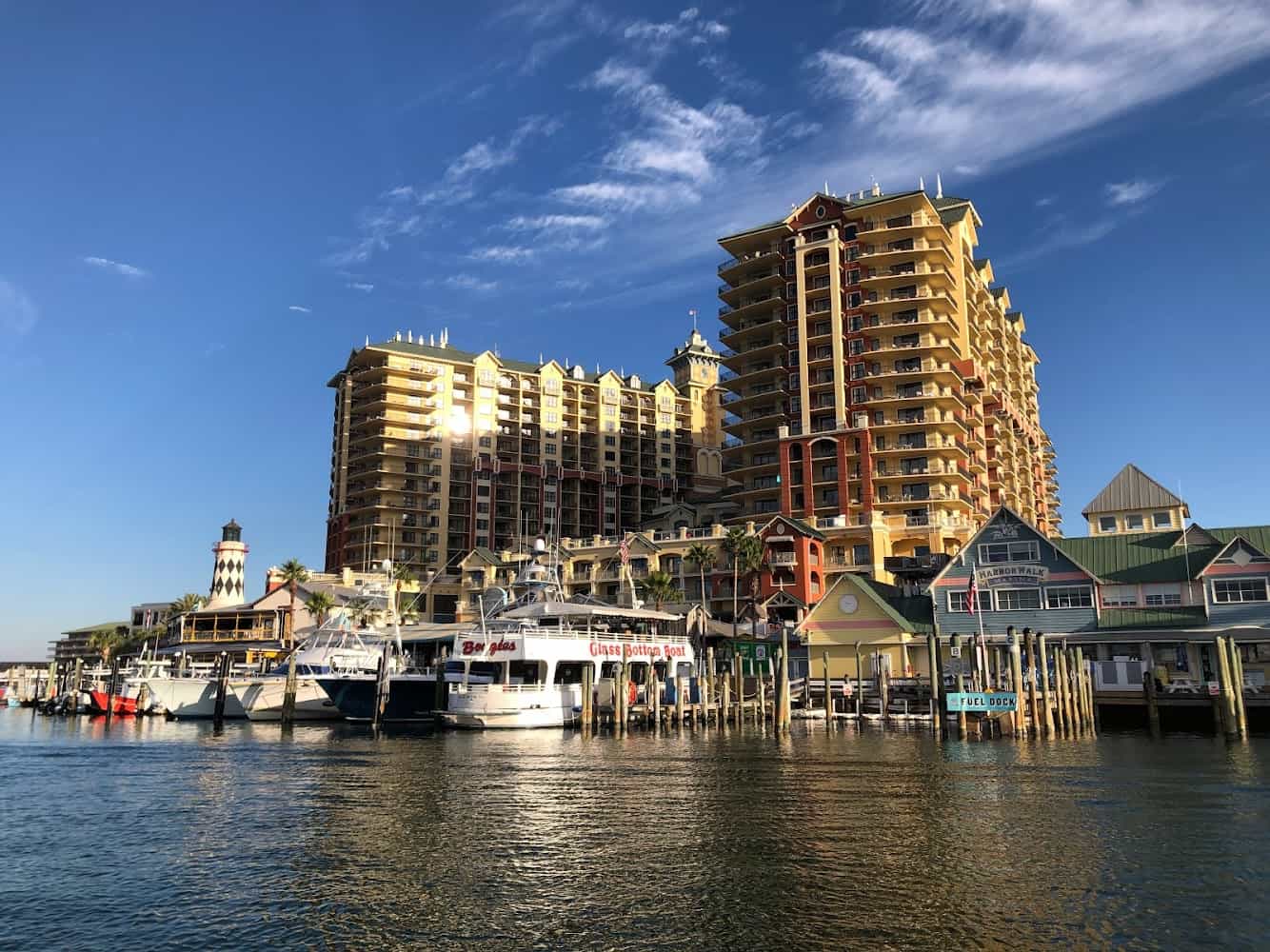 HarborWalk Village
Even if it's not October during the Fishing Rodeo, the HarborWalk Village in Destin is worth checking out! The harbor is the active hub of the World's Luckiest Fishing Village and the center of it all. Charter boats of every size are docked along the harbor and give the area the energetic vibe of an active fishing community. The village is packed with restaurants, boutiques, adventure activities (ziplining and bungee trampoline jumping, to name a few), bars, shops, and so much more. You can also book a fishing charter, dolphin cruise, a buccaneer pirate cruise, rent jet skis and wave runners, and more! 
There's usually live music playing from somewhere along the HarborWalk Village boardwalk, fish being cleaned, and seagulls flying overhead. It's a great place to people-watch or chat with fishermen and boat captains. The kids loved the hustle and bustle of this vibrant fun area and begged to try everything there was to offer, from a little train that cruises through the streets to frozen lemonade and cotton candy. I loved that many of the restaurants have open air patios overlooking the harbor where you can relax and watch the boats come in and out of the harbor while sipping on a drink and enjoying fresh seafood and a gorgeous sunset!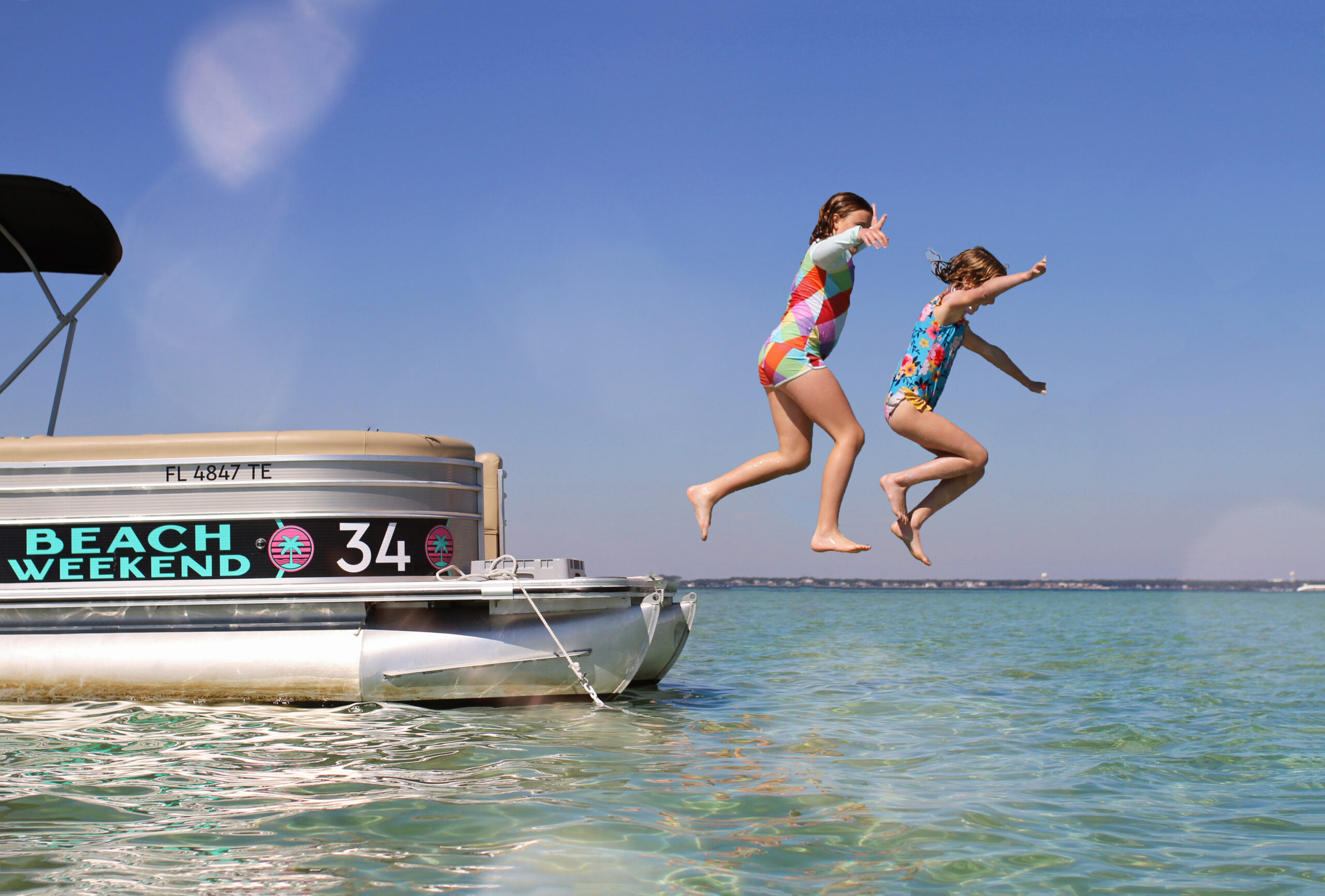 Pontoon rental for the day
One of the best ways to really maximize your time on the water and get an up-close look at the entire Destin-Fort Walton Beach area is to explore the Choctawhatchee Bay by boat. Whether you choose a canoe, kayak, SUP, or pontoon, getting out in the Bay on a watercraft is a unique opportunity to explore the area's gorgeous coastline and become familiar with the local wildlife. 
We spent a glorious October day exploring the Bay in a pontoon we rented from Beach Weekend. Beach Weekend has a fleet of spacious pontoons that provide plenty of space and shade for your adventure. They hold up to 12 passengers and can be rented for full or half days. Upon check-in, you go over the safety rules and get boarded on your boat. Once you're in the Bay, there's so much to explore! You can make your way through the Bay observing wildlife or check out one of the many private sugar-white beaches.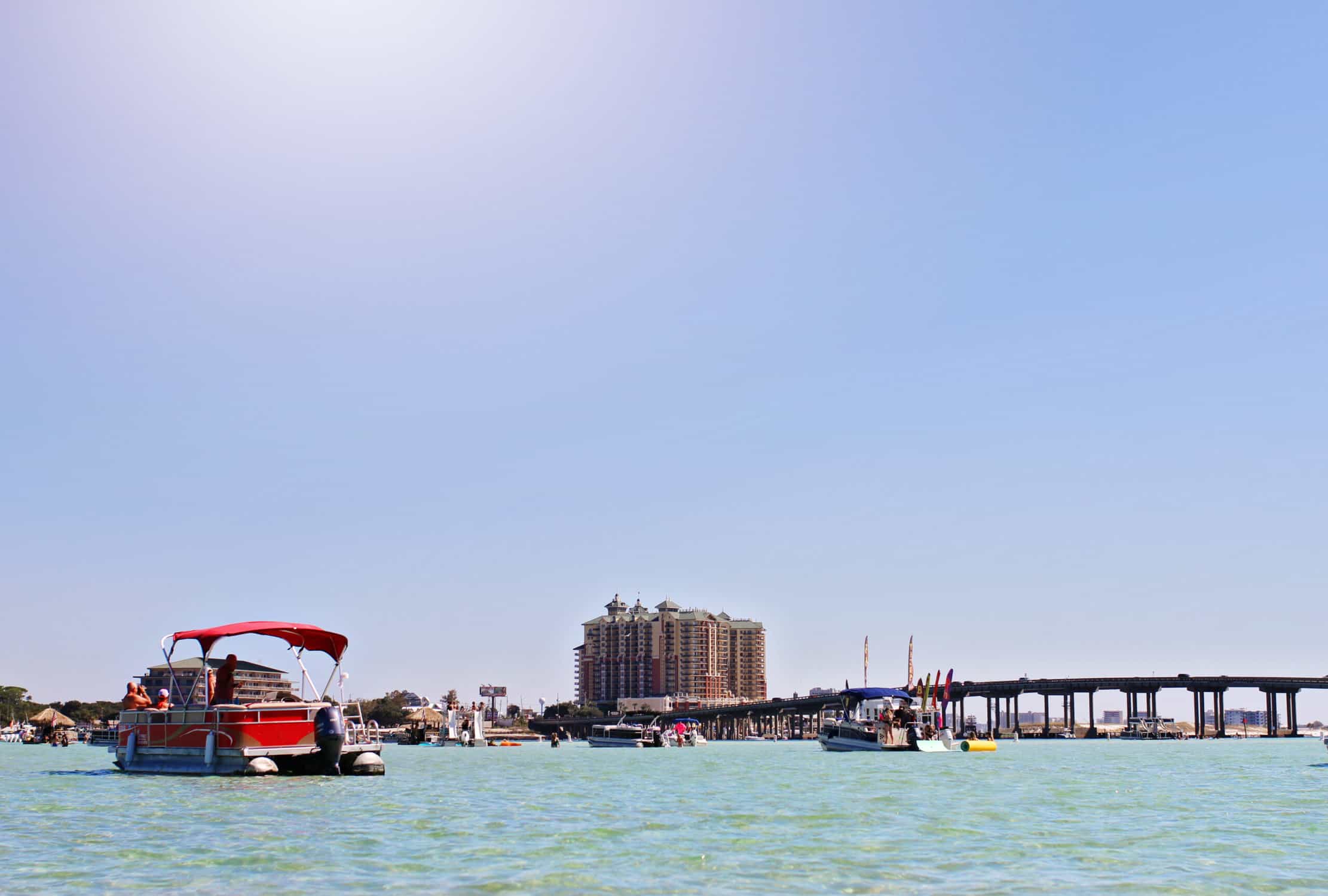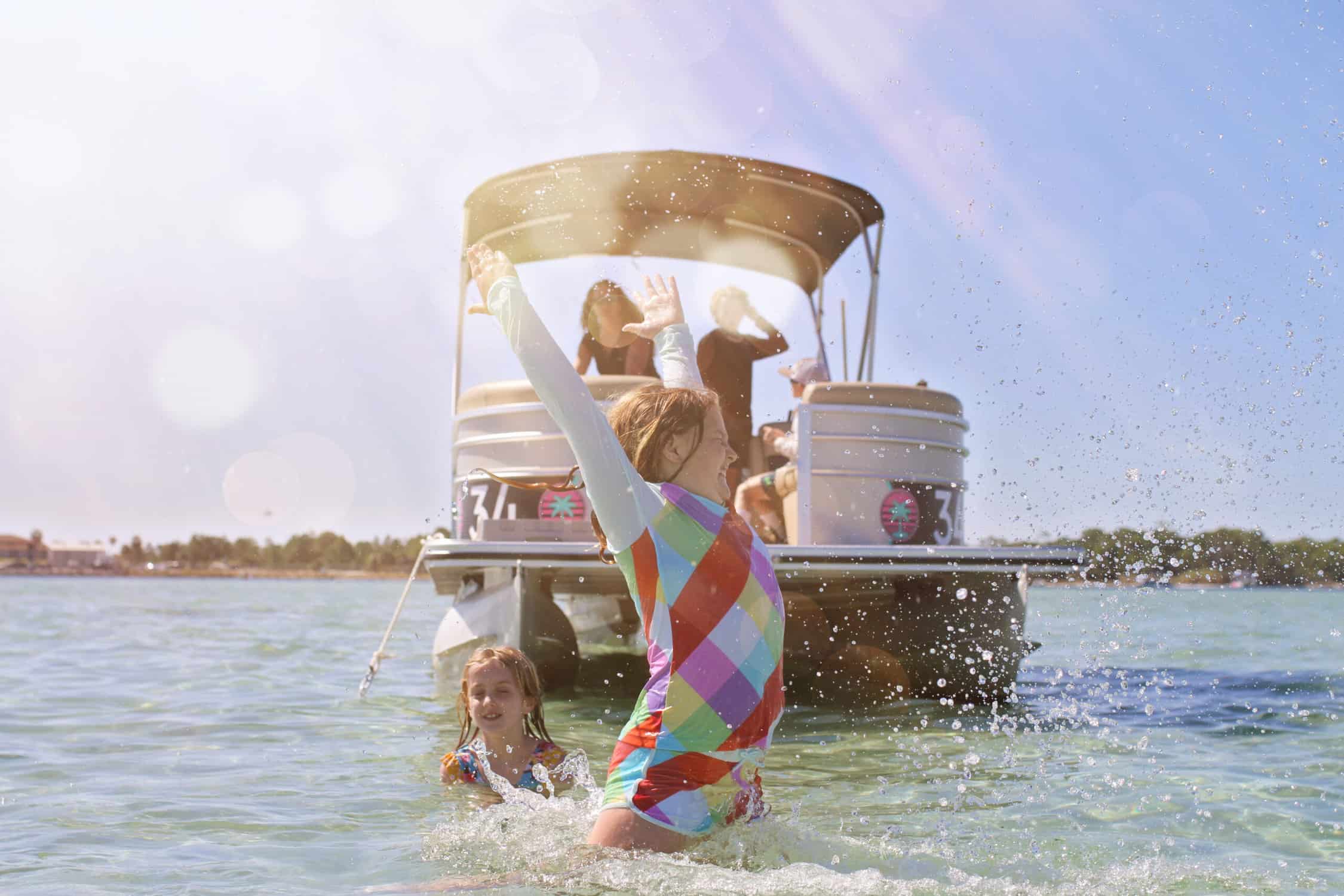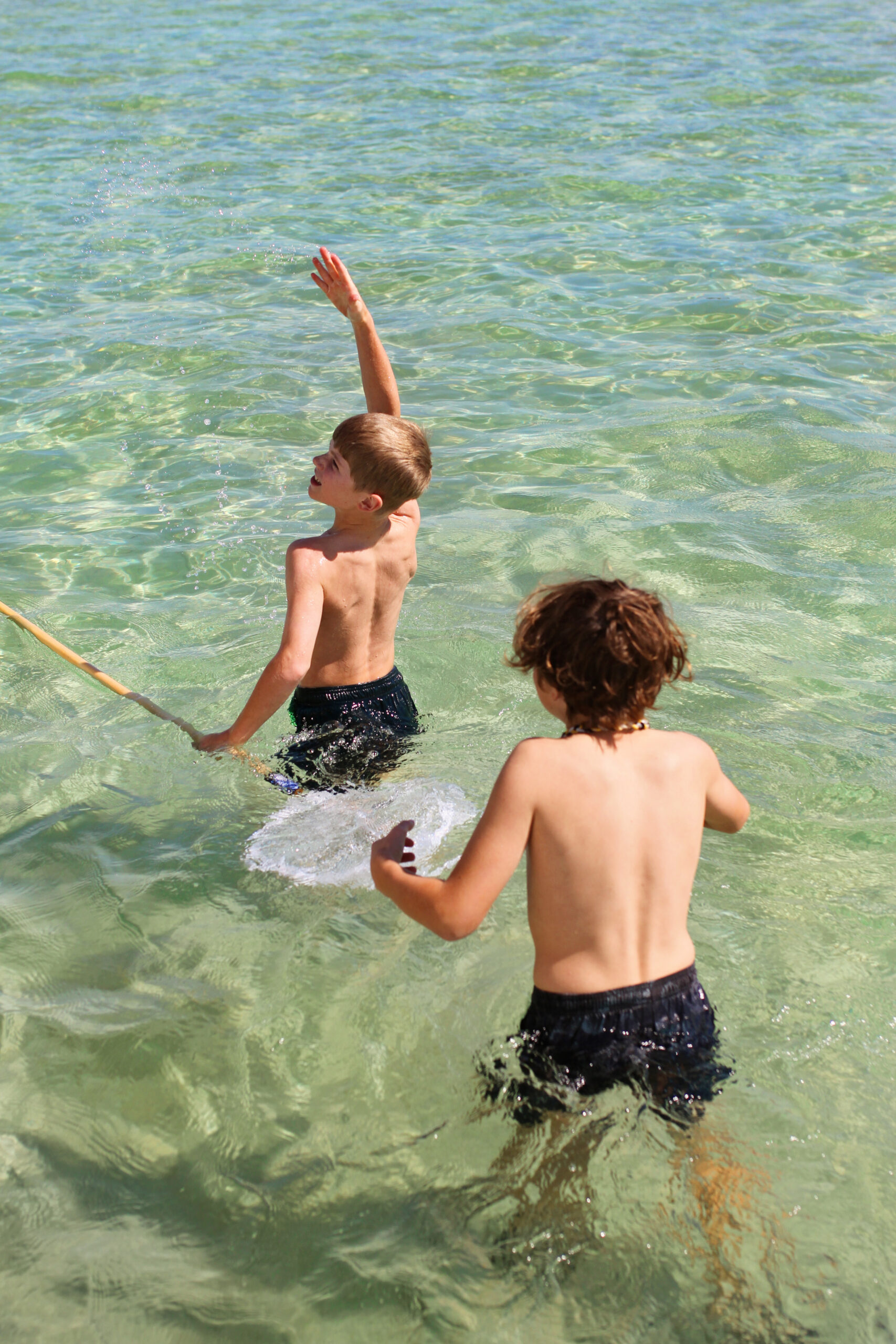 Exploring via pontoon
What I loved about this adventure was the freedom it gave us to explore the area in a whole new way. With the entire day before us and a full tank of fuel, we got to do a little bit of everything that everyone on the boat enjoyed. We cruised around with the sun on our cheeks and wind in our hair. We stopped to let the boys do a little fishing in areas they felt were extra fishy. The girls splashed in the cool water and had a blast jumping off the boat. We explored the tidepools on the deserted Spectre Island and caught crab, minnows, and shrimp. We picnicked on the beach, relaxed with our toes in the sand, and enjoyed the kids' squeals and excitement as they discovered another treasure.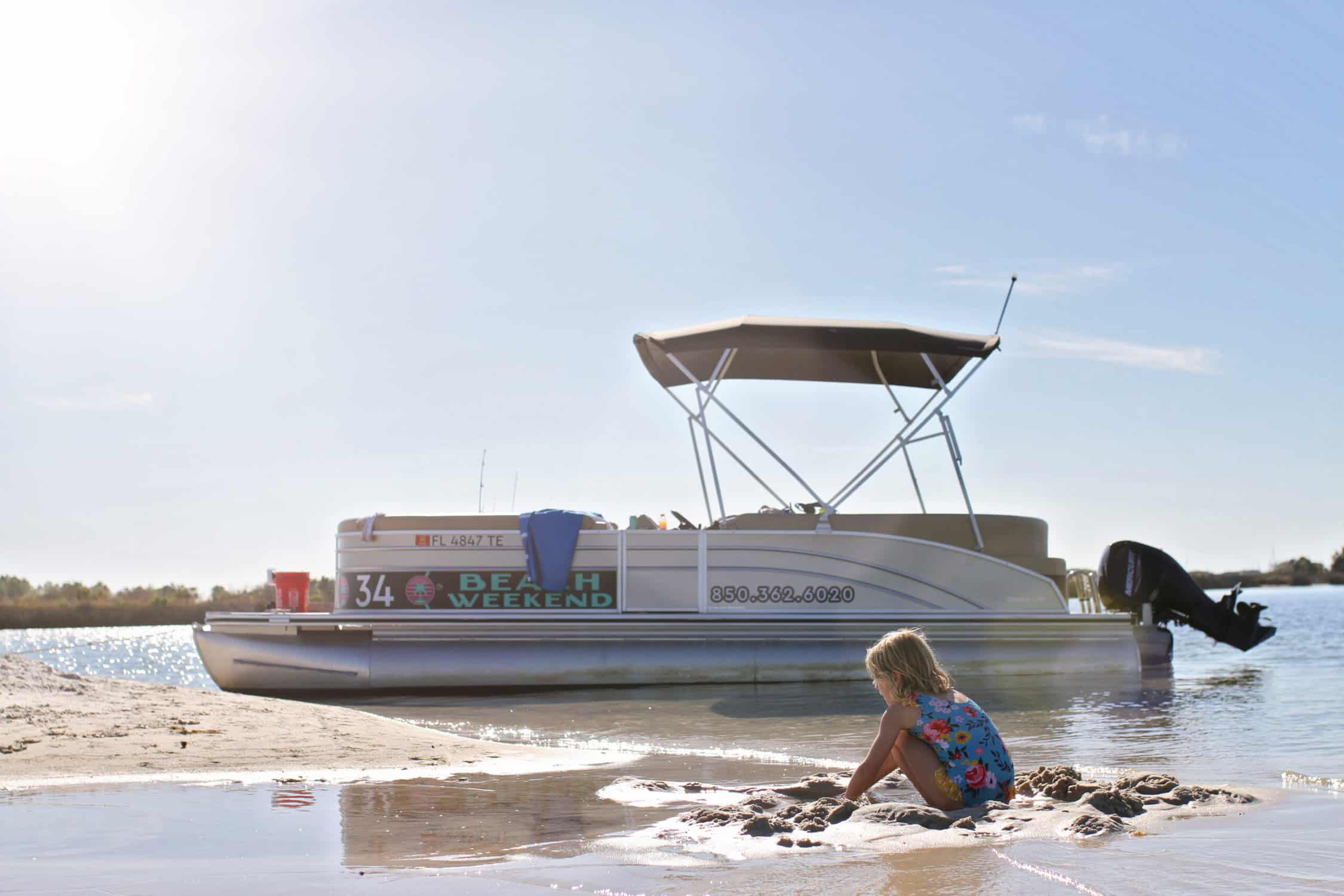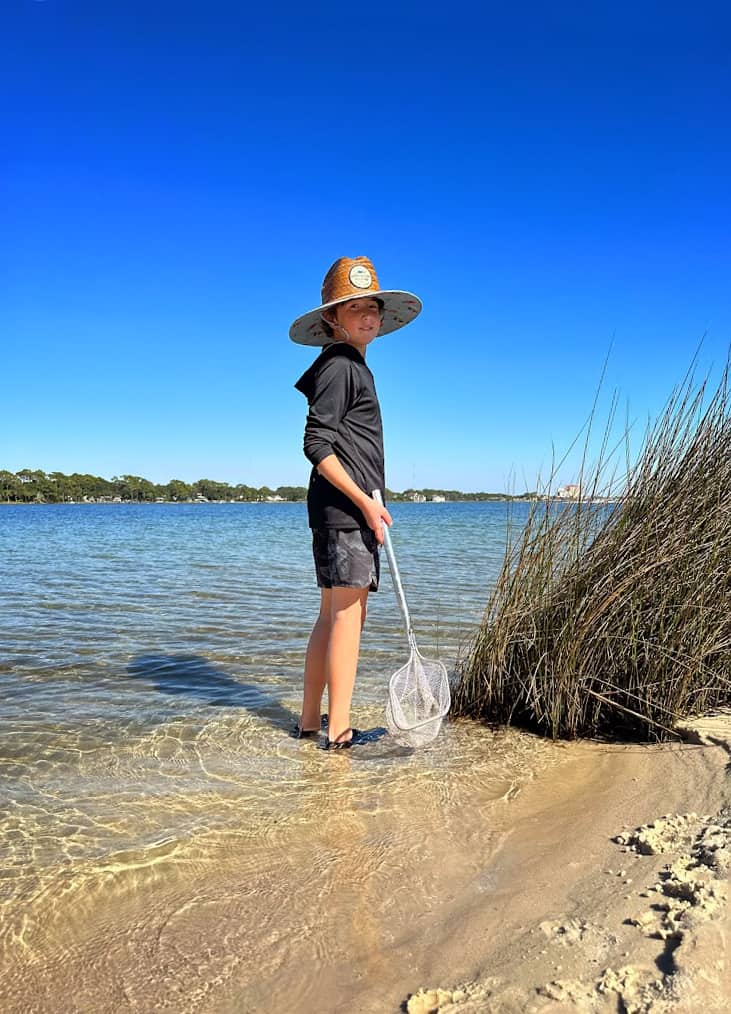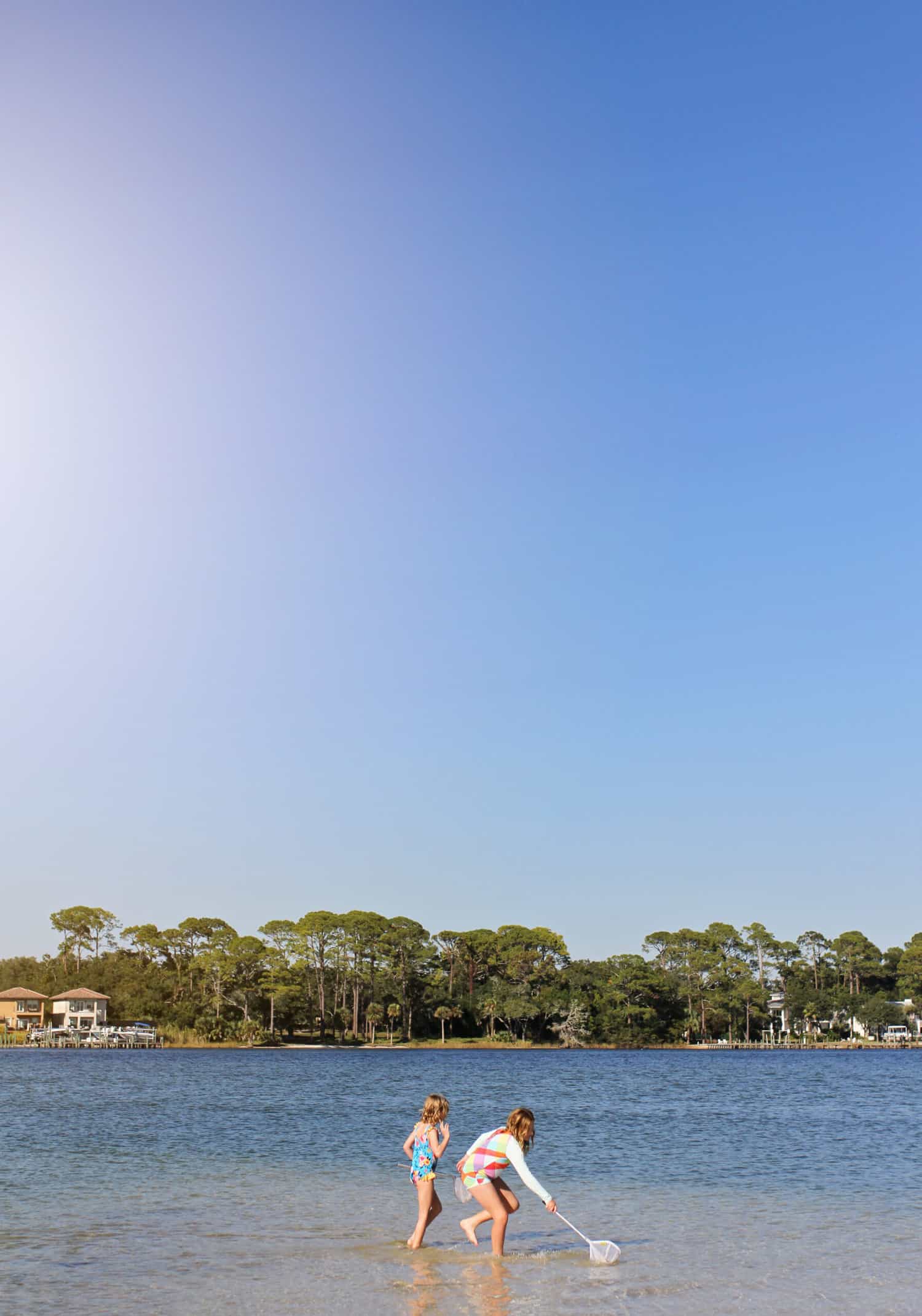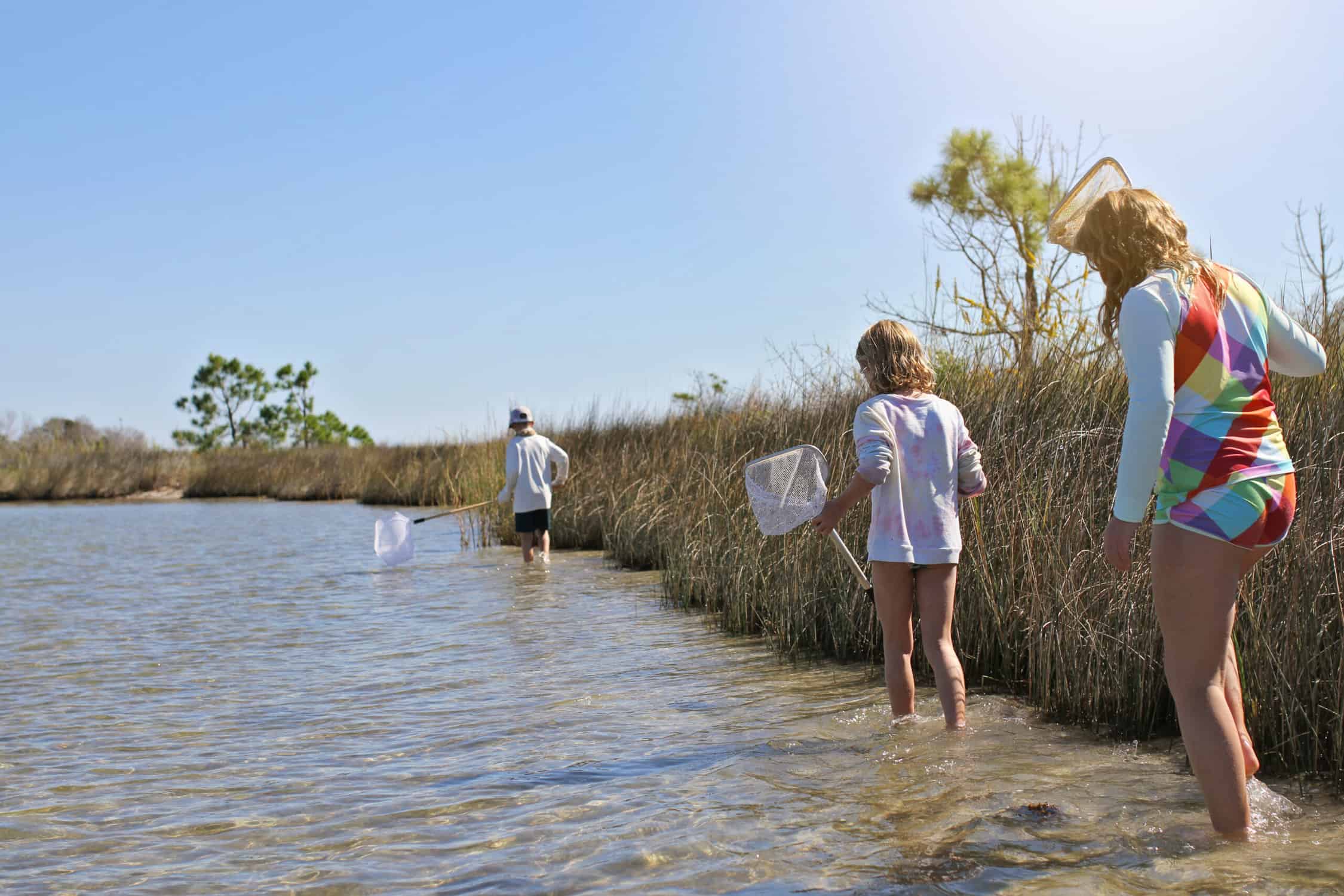 Spectre Island with Kids
The pontoon was such a lovely way to get familiar with Destin Fort Walton beach with kids and allowed us to explore places we wouldn't otherwise have the opportunity to check out. One of the best places to explore by boat is Spectre Island. Located just minutes west of Beach Weekend is a deserted little island in the middle of the sound. What started off as a dredging project by the U.S. Army Corps of Engineers years ago, is now one of the area's best hangout spots by boat and the perfect place for kids to explore.
Anchor your pontoon and let the kids run wild. There are so many open-ended fun things to do here. They can swim, fish, tidepool, snorkel, spot dolphins, paddleboard, build sandcastles on the beach, or walk around and explore. The opportunities are endless for natural unstructured free play and exploration in the untouched natural habitat.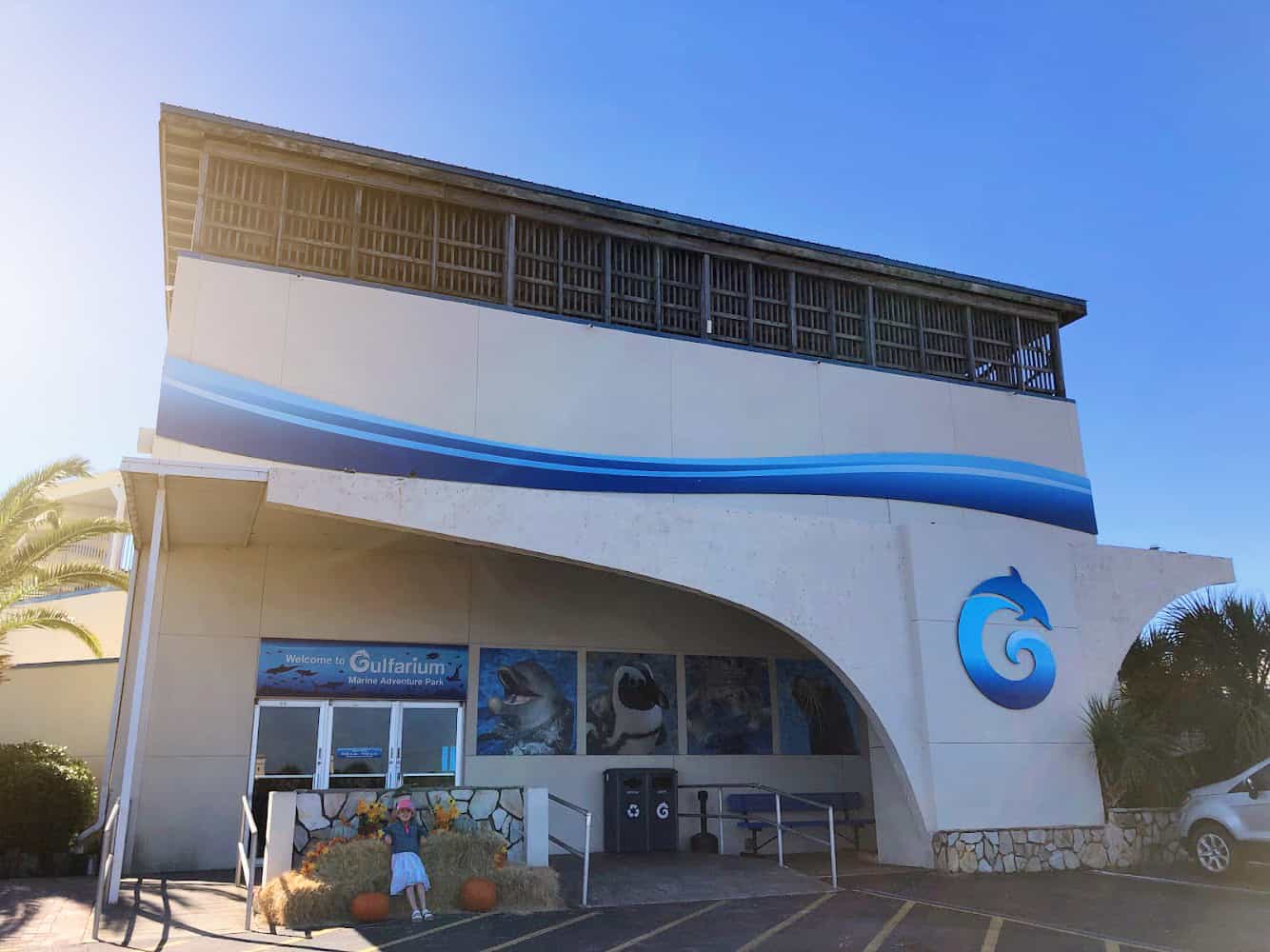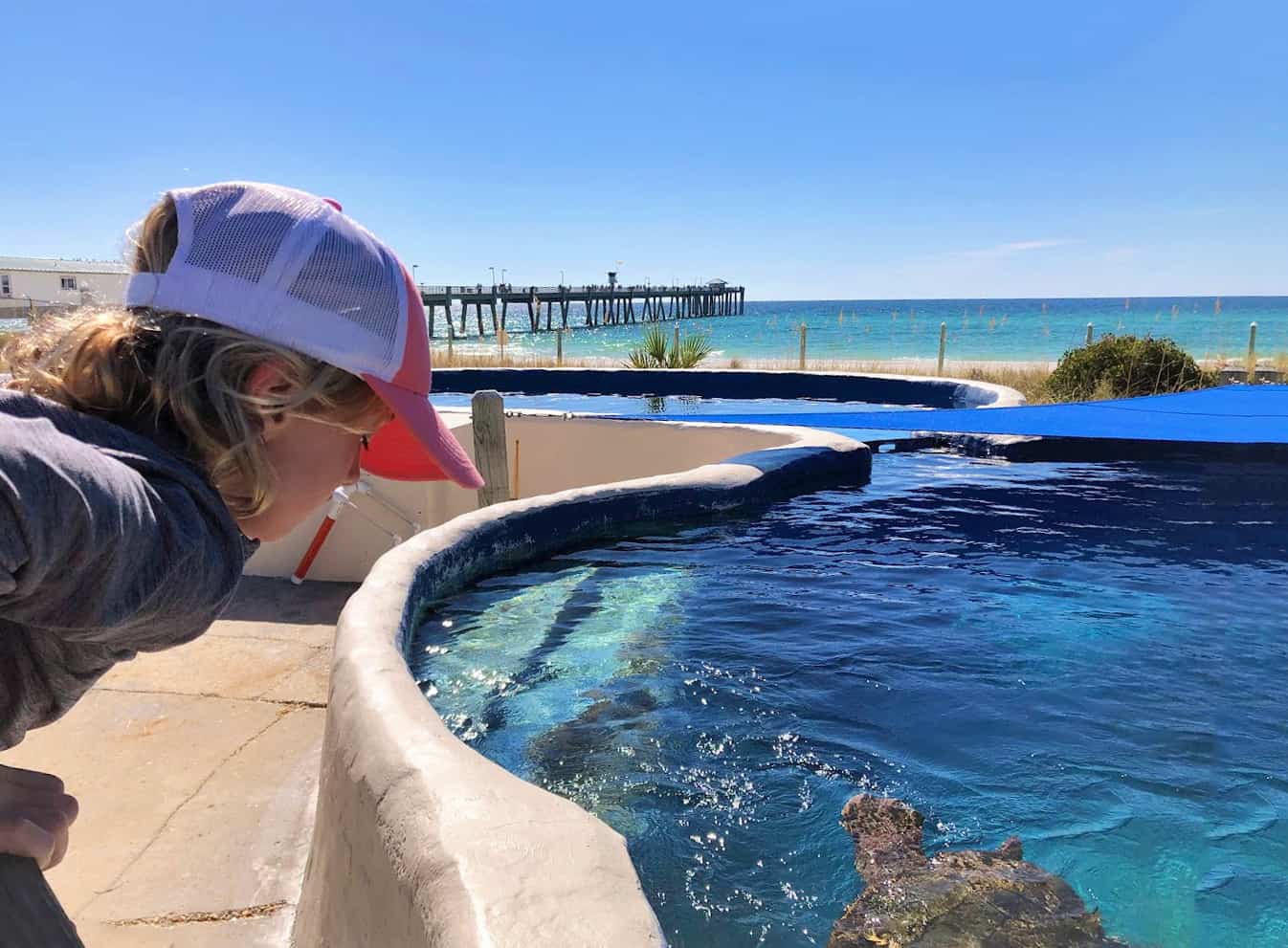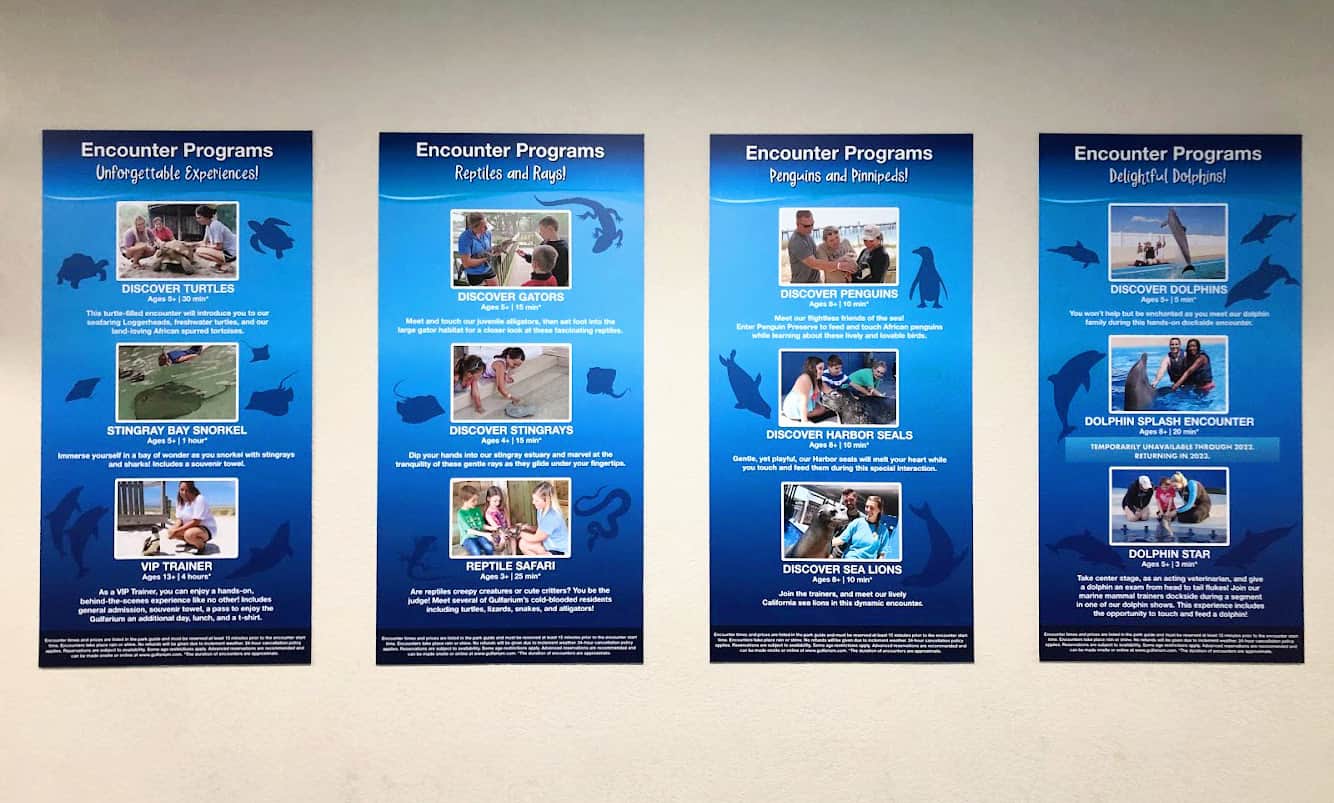 Gulfarium Marine Adventure Park
Since we're speaking about marine life, on our last day in Destin, we spent some time exploring the Gulfarium Marine Adventure Park, which was a short walk down the beach from our hotel. Our family loves visiting aquariums, probably because we're all obsessed with fish and marine life and passionate about preserving it.
The Gulfarium was a special treat and different from many of the aquariums we've been to due to their animal encounters program. This program is designed to educate and impassion guests to respect and preserve wildlife by providing unique and memorable up-close-and-personal animal encounters where you can interact with both the sea life and the caretakers. These unique encounters include holding baby alligators, feeding the sea lions, getting artwork done for you by a dolphin, lunching with the penguins, or snorkeling with sting rays! 
The Gulfarium also hosts daily dolphin and sea lion shows, which we knew we had to attend! We thought the dolphin show was one of the best things we saw at the Gulfarium. The show was both educational (even I learned quite a bit) and entertaining. The bottlenose dolphins were really impressive, and the kids absolutely loved their performance.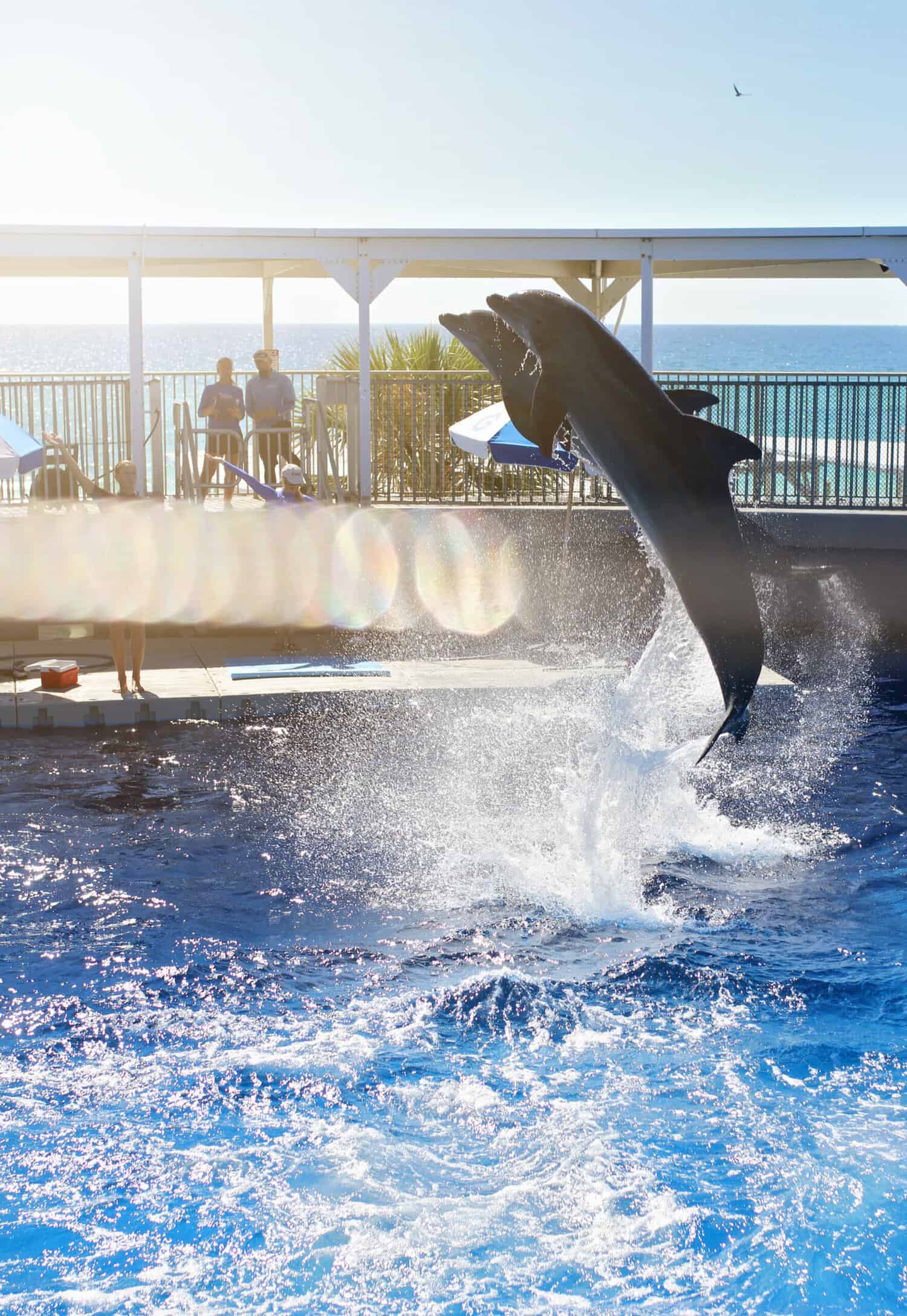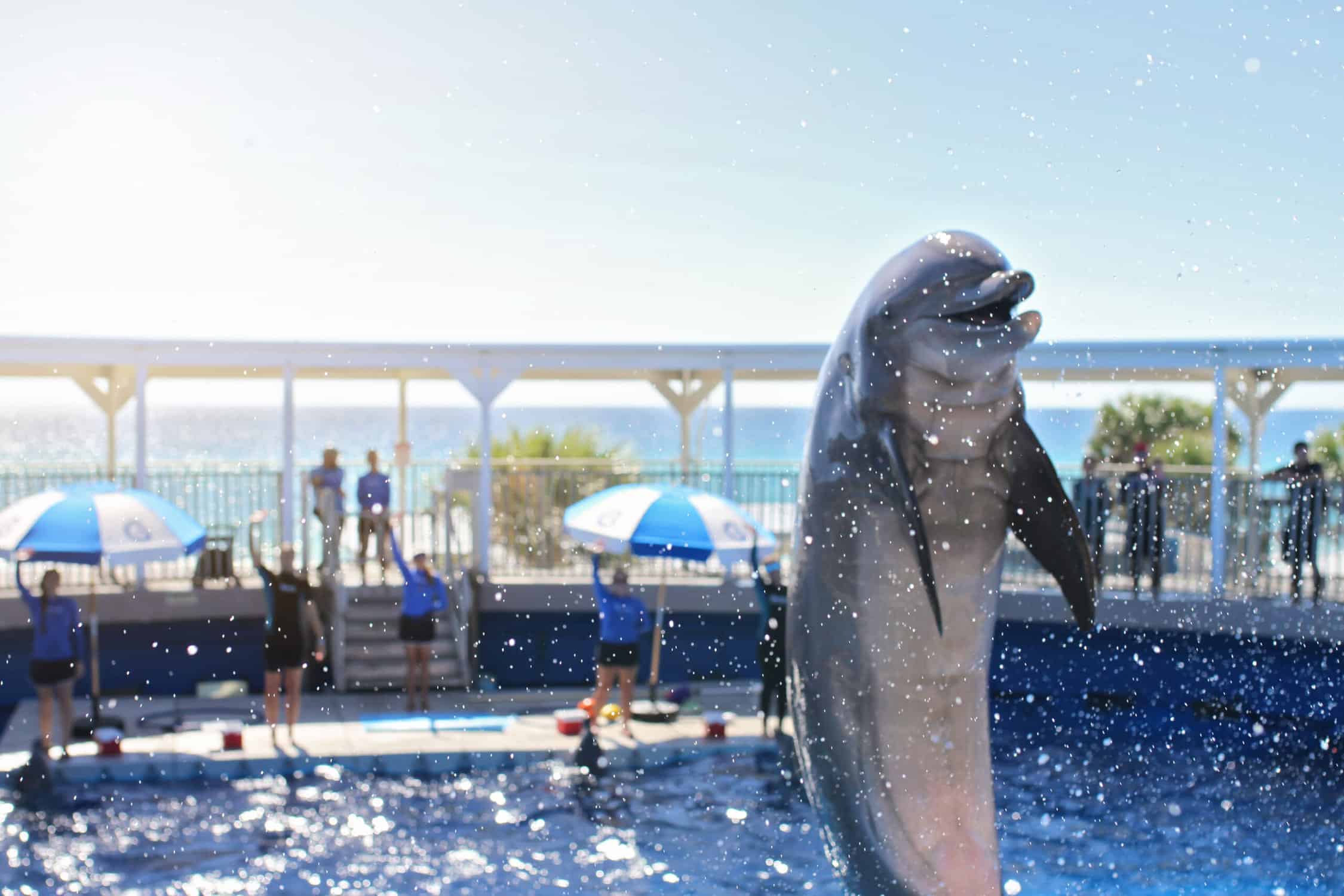 More about the Gulfarium
Here are a few other things for families to note about the Gulfarium:
Make sure to check out the day's schedule of chats, feedings and performances so you can plan your trip accordingly. The programs are great and you'll want to be sure to get to each one a little early so that you can get a good spot/seat.
Gulfarium's C.A.R.E. Center is a non-profit to facilitate and further coastal conservation efforts. Their specialty is sea turtles and the program has helped to rehabilitate and release hundred of sea turtles of various species found in the Gulf Coast, including Loggerhead, Green, Kemp's ridley, and Leatherback.
Reservations are required if you want to book an animal encounter.
The Gulfarium is mostly outdoor and open air, right on the beach, with beautiful views.
There's an on-site food and drink concession stand where you can get lunch, snacks, and drinks for the family.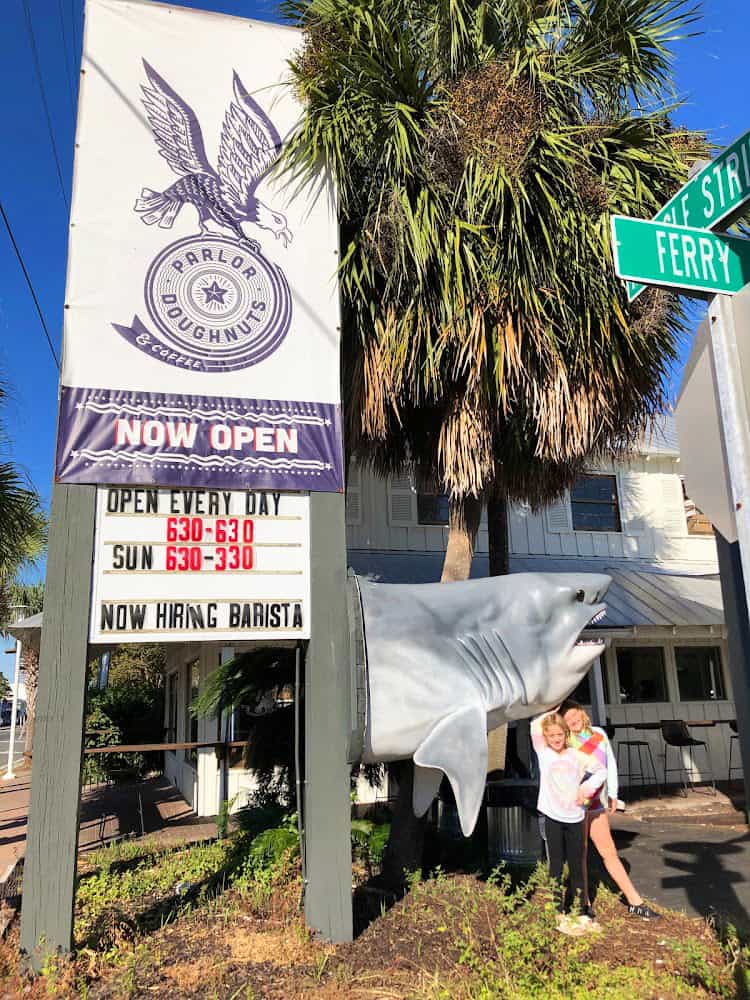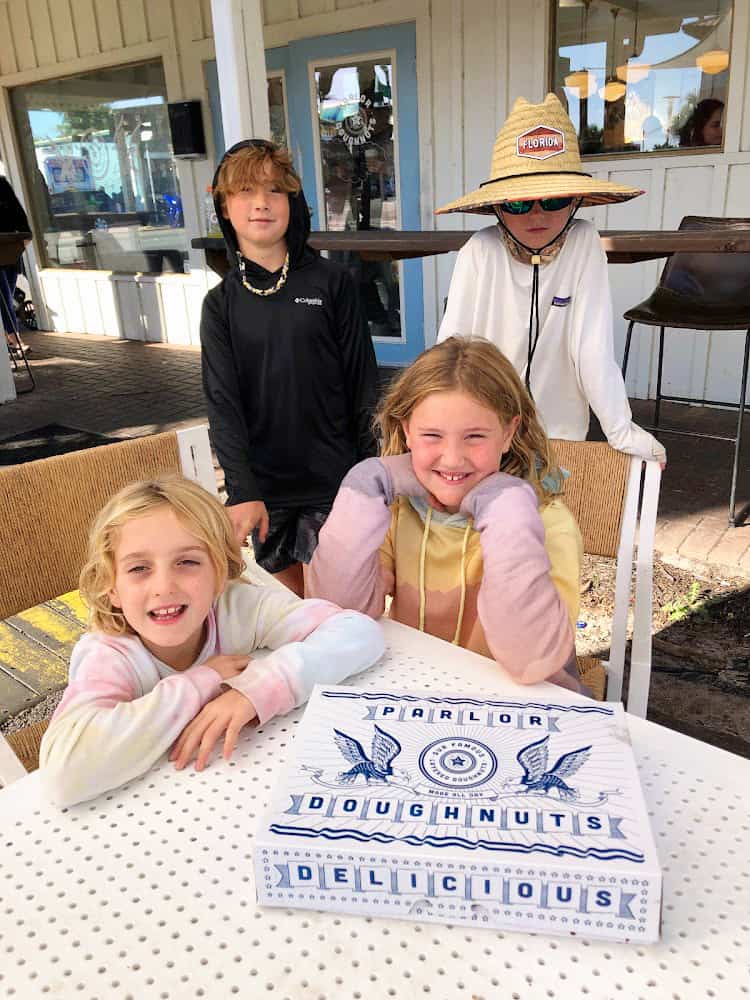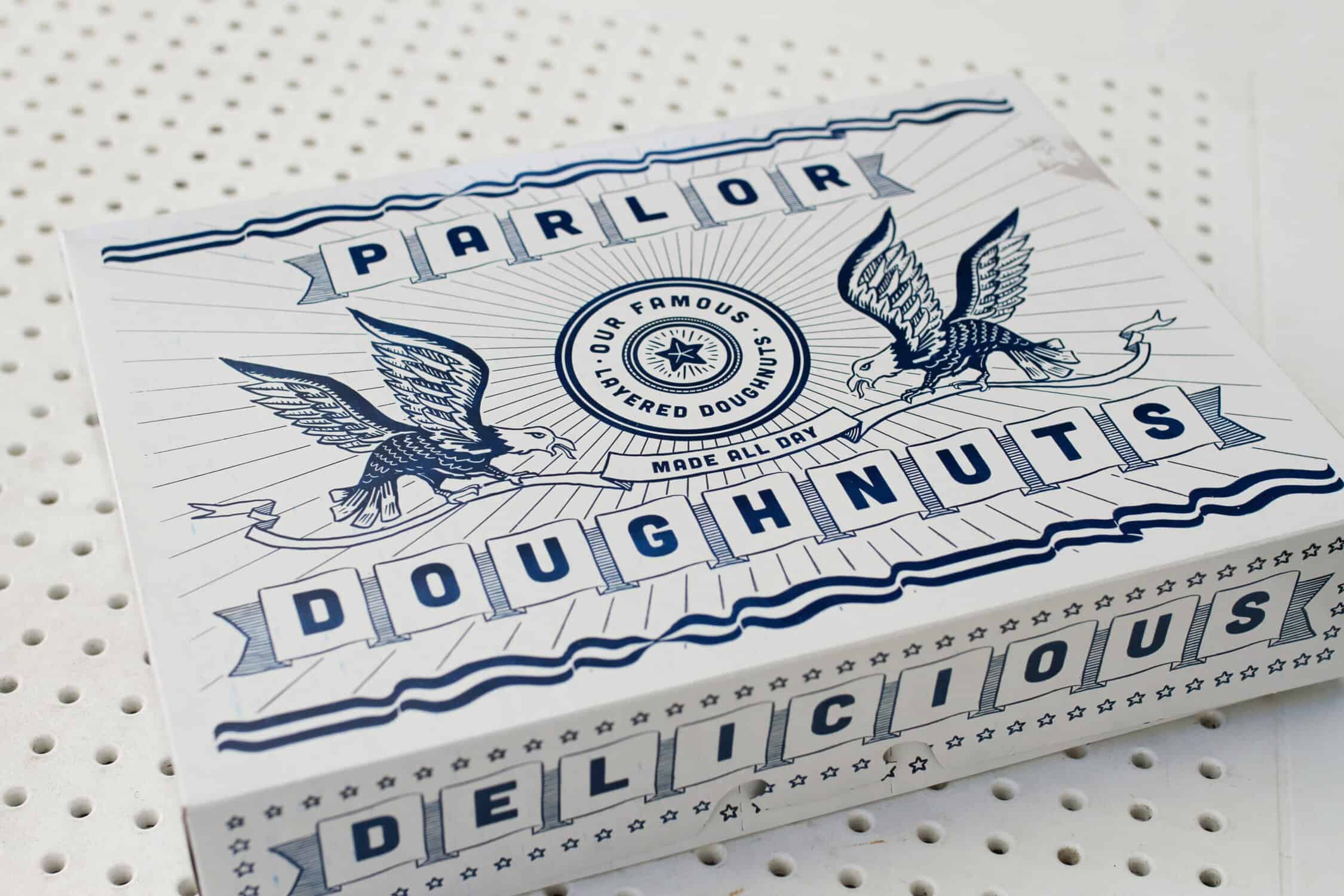 The best donuts in Destin-Fort Walton Beach
No vacation with kids would be complete without a little sugar, so let's talk for a minute about some of the best donuts I've ever eaten. I love a good donut and would consider myself a bit of a donut snob. We love checking out local donut shops when we travel, and most of the time, the donuts are pretty good. However, every now and then, we'll find a donut shop that blows us away, and this was one of those times. Parlor Doughnuts in Fort Walton Beach was incredible. 
Parlor Doughnuts offers their signature "layered donut," which is different than the traditional cake or yeast style of donut. There are vegan/gluten-friendly and keto-friendly donuts, so there's something for everyone in your family.  They also offer breakfast items such as acai bowls, avocado toast, breakfast sandwiches, and tacos. And, of course, specialty coffee. 
Before heading out on your day of adventuring in Destin-Fort Walton beach with kids, we highly recommend fueling up at Parlor Doughnuts. If you have the chance to try the S'mores donut, do it!!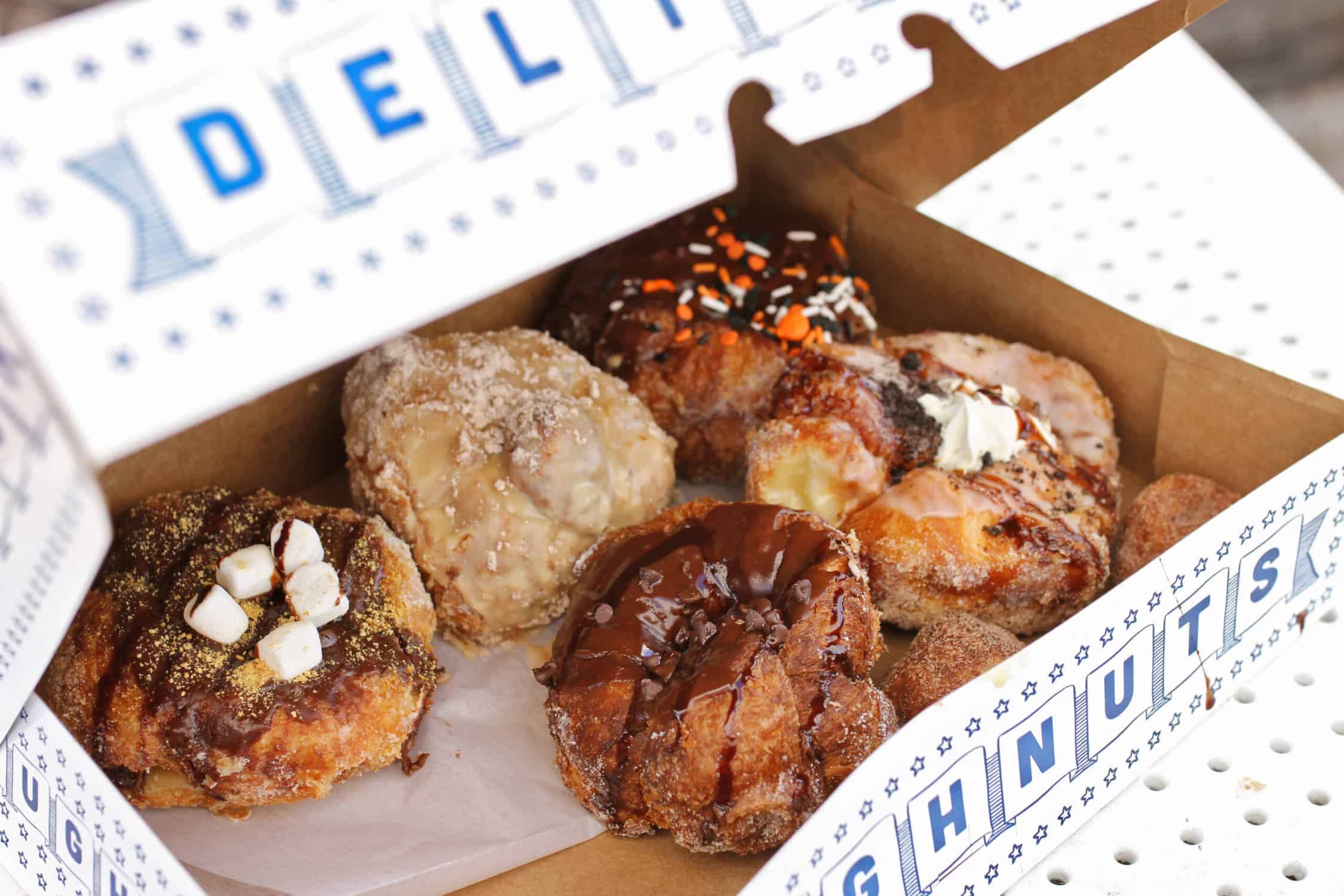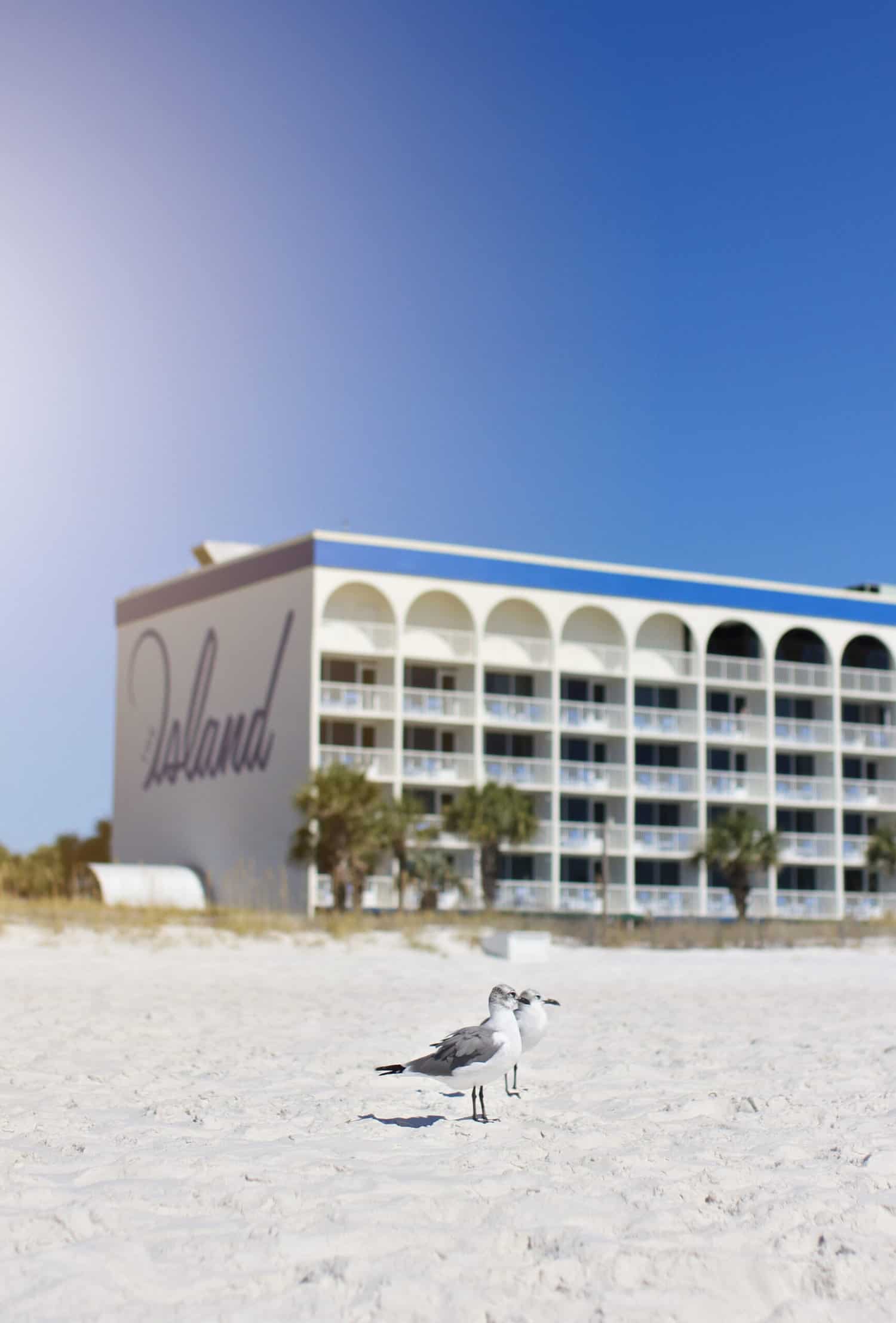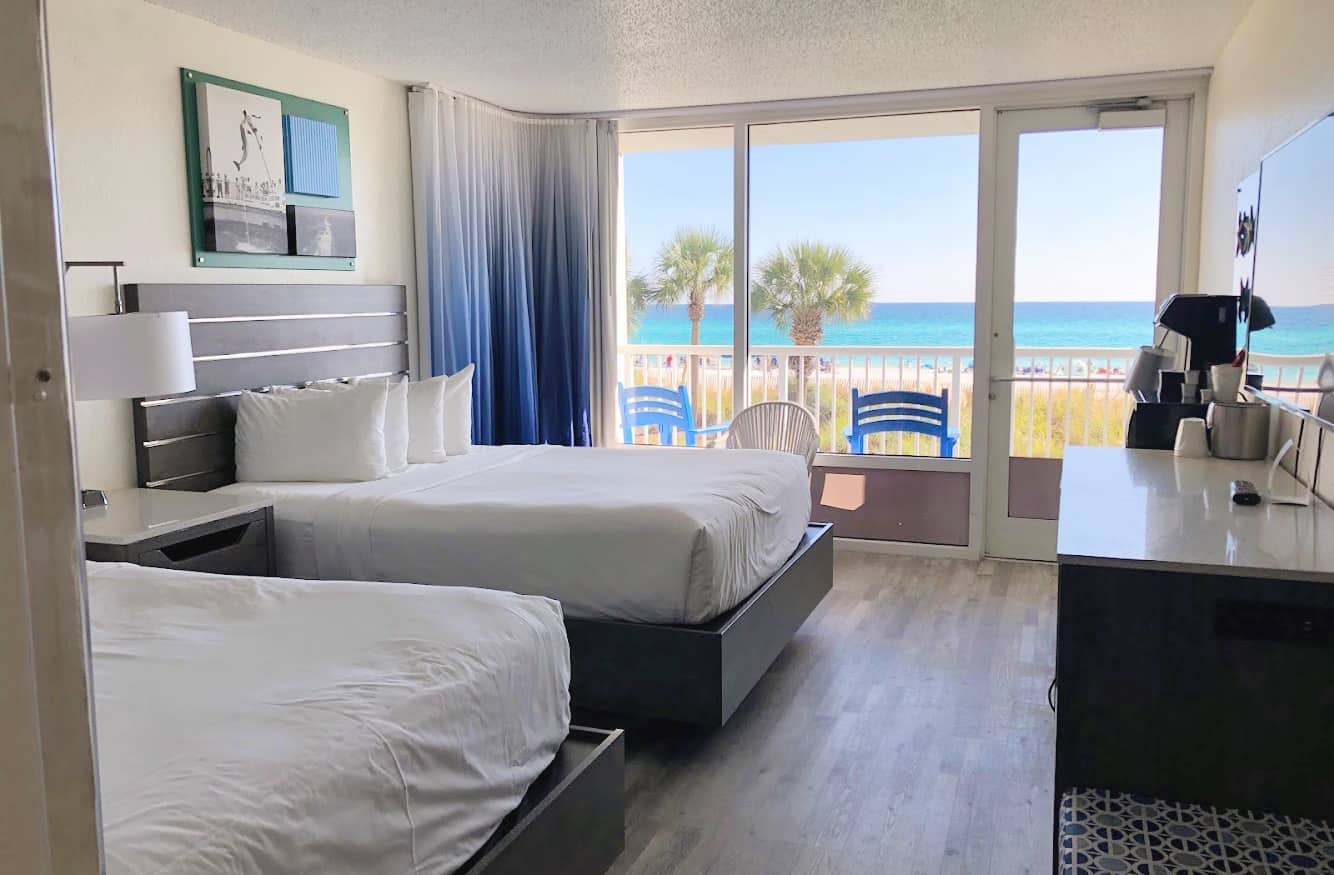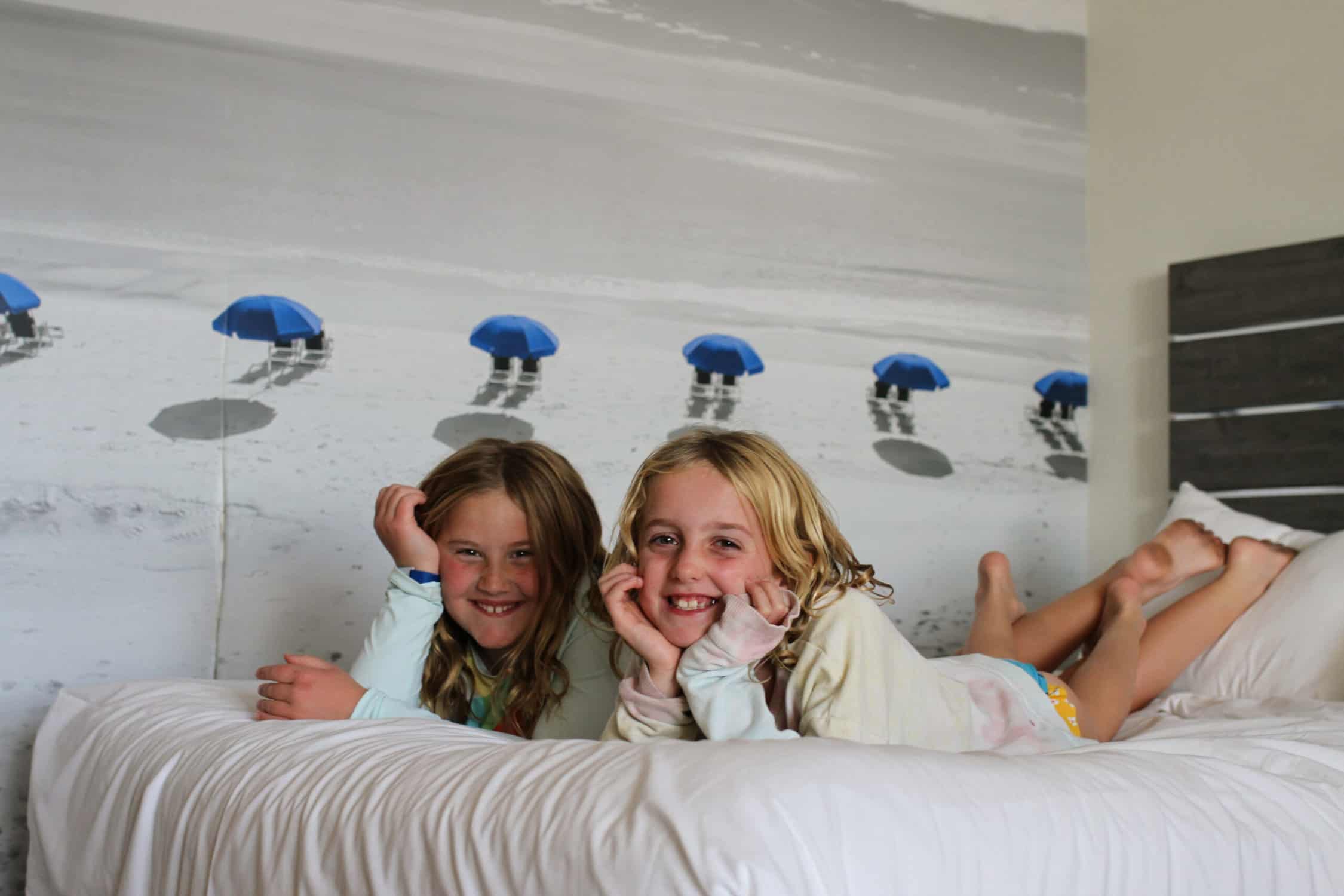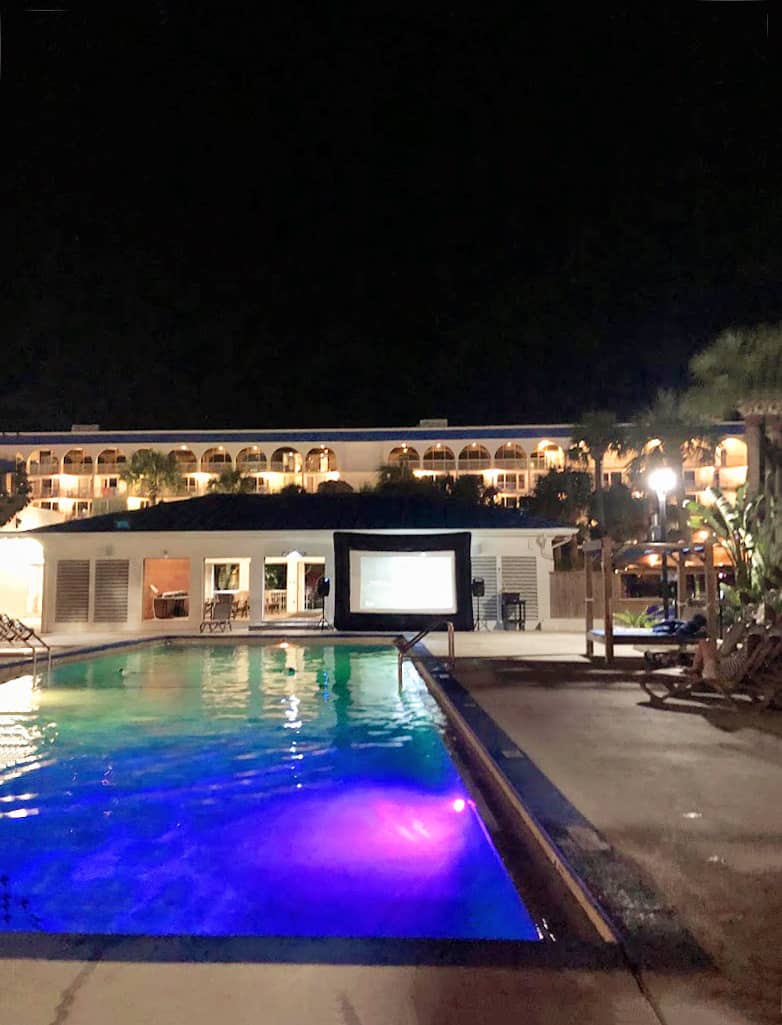 Where to stay: The Island Resort – Fort Walton Beach
With so much to do in Destin-Fort Walton Beach with kids, our days were filled with water activities and exploration, but in the evenings, the kids were thrilled just to swim in the pool and hang out at the hotel. Luckily, we stayed at The Island Resort, which is a beachfront property on Okaloosa Island, in between Destin and Fort Walton Beach.
Family-friendly amenities and activities
The Island Resort has everything we needed to hunker down and stay happy, fed, and entertained. While I love exploring and being out and about, it's also so nice to stay in a hotel where you never have to leave, if you don't want to! The Island Resort has multiple restaurants (and they were all delicious!), a few bars, a little travel shop with beach toys and souvenirs, two pools, a hot tub, a fitness center, laundry, and even a taco truck. They offer onsite activities during the day and evening – some of the activities offered while we were there were Harry Potter trivia, karaoke, poolside Monday night football on the giant inflatable screen, morning yoga, name-that-tune bingo, live music, and more! 
The kids loved the swimming options – not only could you swim on the beach, there's the large Grotto Pool (unheated), a second heated outdoor pool, and hot tub. The Grotto pool has a seasonal swim-up bar inside the cave and a real-life mermaid during the summer months! It was pretty cold in the pool when we were there in October, but that certainly didn't keep my kids from enjoying it! I loved watching the sunsets over the pier on the beach, with a boat drink in hand. 
Location, location, location
The Island Resort is ideally located within walking distance of all kinds of amazing places and activities, including the Island Pier, the Gulfarium, John Beasley Park, Gulf Islands National Seashore, Wild Willy's Adventure Zone, boat rentals, The Boardwalk, and all kinds of amazing restaurants and shops. It's also right on the gorgeous white sand beach, with private beachfront access, daily chair and umbrella rentals, and a beachfront bar that makes the most amazing boat drinks.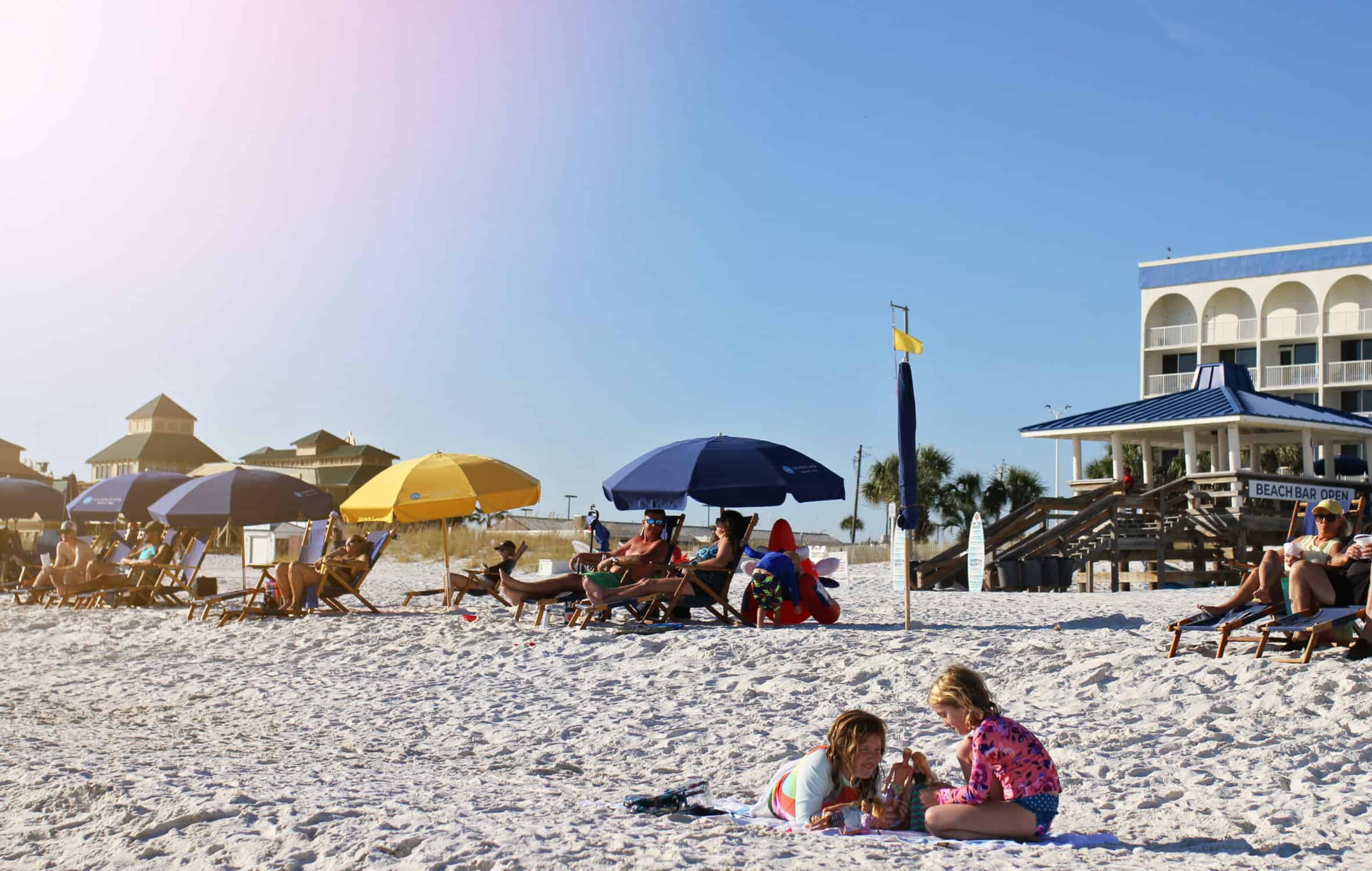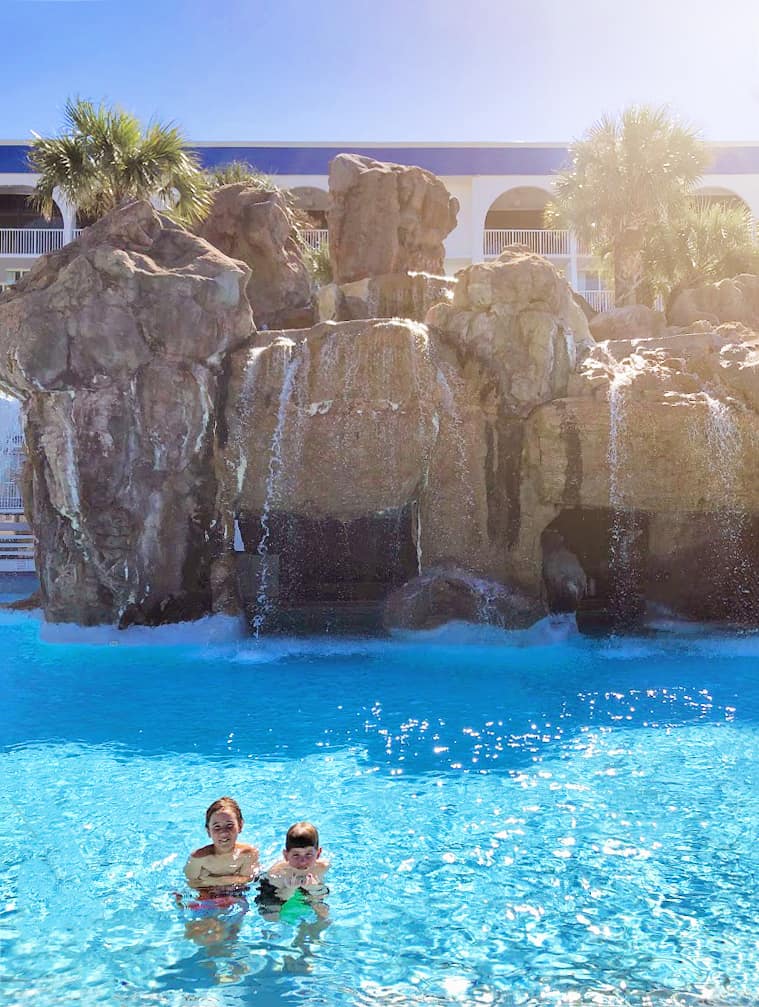 Destin-Fort Walton Beach with kids
We hope that this post has shown you just how beautiful the Destin-Fort Walton Beach area is and how many amazing outdoor activities there are for families. Whether you're looking for an action-packed water activity for your older kids, a toddler-friendly outing, or a relaxing planned-for-you adventure for a large family, there's something for everyone. Be sure to check out the Little Adventures website for all the details and add a few to your itinerary.
Let us know if/when you'll be exploring Destin-Fort Walton Beach with kids and if we can answer any of your questions!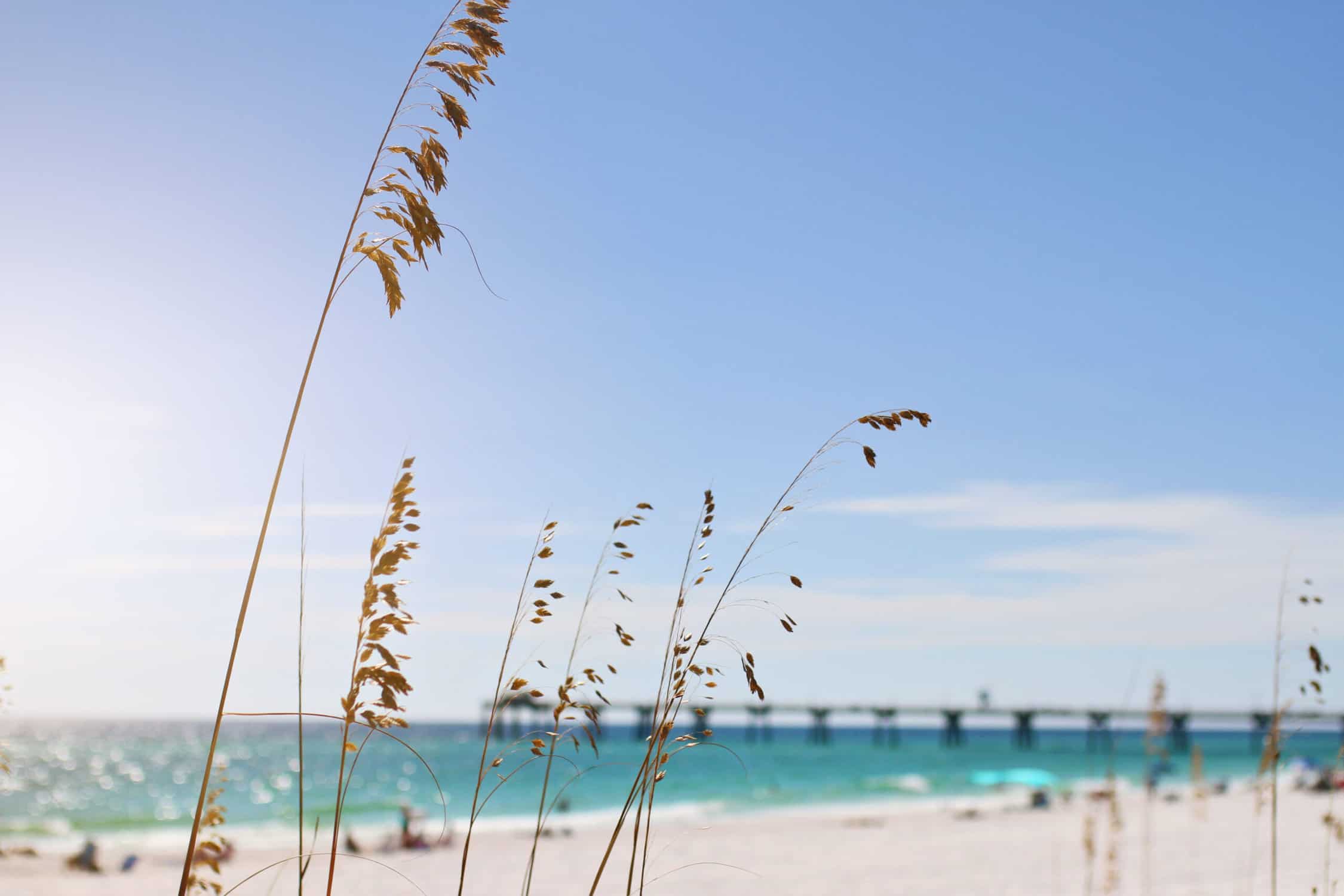 Additional travel resources
If you're looking for a few more resources on the importance of traveling with kids and how to make it easier on everyone, be sure to check out the following articles: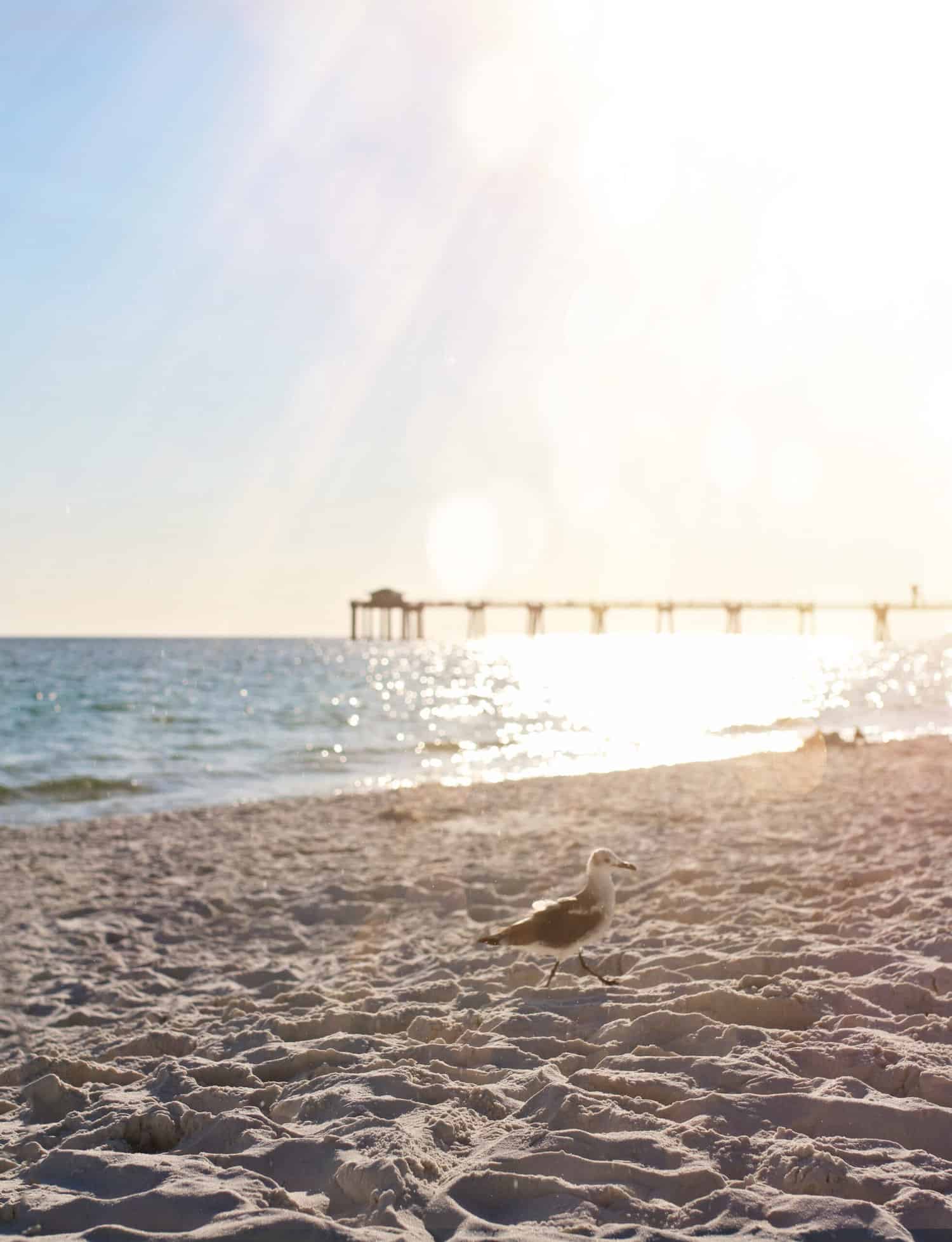 Have we convinced you to add Destin to your family's bucket list?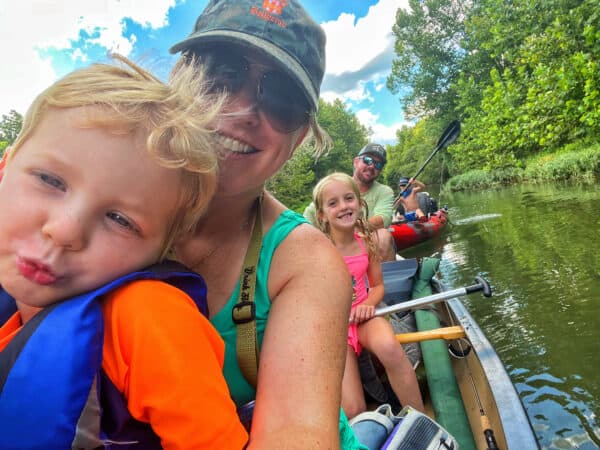 About the author
Sara McCarty is the founder of Run Wild My Child, a mom of 3, a wife, and a recovering corporate securities lawyer. She lives in St. Louis, Missouri, and is determined to raise her city kids to be as wild and feral as possible. You can usually find her family exploring a creek, fly fishing, hiking, duck hunting, camping, canoeing, biking, or geocaching. She loves to travel and showcase unique destinations with outdoor family-friendly activities. She's passionate about reading, photography, oysters, plants, coffee, cooking, and key lime pie.
Source link